Meaning of Personal Line of Credit
A Personal Line of Credit (PLOC) is a type of open-ended loan or a ready source of funds that allows borrowers to withdraw the amount they need as per their requirements. It could be from a bank or any other financial institution. We can say that this loan works similarly to a credit card debt. A borrower can withdraw the money as often as they want via checks/cheques or bank transfers. However, a borrower can not withdraw more than their approved credit limit.
The biggest feature of such types of loans is that the borrower is required to pay the interest only on the money withdrawn or borrowed. He is not to pay the interest on the full sanctioned amount. So, if the borrower does not use the credit at all, then they do not need to pay any interest. Also, the borrower can use the funds for personal or business needs, wherever he wants. A PLOC is generally an unsecured loan, which means it does not involve any collateral. But there can be secured PLOC as well.
Personal Line of Credit: How to Apply?
To apply and to get a PLOC, one has to go through the following steps:
A PLOC is a type of unsecured loan, so lenders generally look at the creditworthiness of the borrower. Thus, you need to have a good credit score. You can easily view your credit report for free from the credit bureaus. Your credit report will help you to get some idea of the loan terms to expect.
You must be very clear on the amount you want. If you crave a bigger amount, then you may not get an unsecured PLOC. Instead, the lender would be willing to go for a secured PLOC.
Before you apply for PLOC, you must research lenders. You should compare the quotes from all the lenders. The factors that could help you select a lender are fees or penalties, maximum credit limit, minimum draw amount, and interest.
Check if you prequalify by filling out a preliminary application. To complete the application, you will have to provide your basic information. If you prequalify from several lenders, it will help you to accurately compare options.
Once you have finalized the lender, you need to fill out a formal loan application. To complete the application, you will have to offer supporting documents. These documents include ID and address proof, income proof, employment status, bank statements, and more.
Once the lender approves your loan request, you will be able to access the funds. The lender may offer several options to withdraw the funds, such as checks/cheques, a special card, or an online transfer.
Personal Line of Credit: How it Works?
A PLOC is a temporary phenomenon. This means one gets a pre-defined time period within which only one can withdraw money. And we call this period a draw period. If there is any balance left in your PLOC after the end of the draw period, then the borrower can not access it or withdraw that balance. In such a scenario, the effective loan stands reduced to the extent of the undrawn amount.
Therefore, during the repayment period, the borrower will need to pay only the final balance net off the undrawn amount. Repayment terms could be different for different lenders.
Types of Repayment Methods: Personal Line of Credit
Draw and Repayment Periods
This is one of the popular repayment methods we come across. In this, the borrower makes regular monthly payments during the repayment period. We can also call this EMI arrangement.
Balloon Payments
The balloon payment method is used to coincide the repayment with the borrower's payment condition. Usually, in this method, the installments are of a lower amount, gradually increasing over the years and becoming quite big towards the end of the repayment period. This gradual increasing quantum of installments is akin to the ballon. Hence, this repayment method is said to be a ballon way of payments.
Demand Line of Credit
In this, the lender sets the PLOC as a demand line of credit. This implies that the lender can ask the borrower to make the full payment at any time.
Advantages of Personal Line of Credit
These are the advantages of PLOC:
Flexibility
This loan offers higher flexibility as it allows you to withdraw any sum if it is inside the credit limit.
Interest Rate
The biggest advantage of such an arrangement is that your interest expense remains quite low because the borrower needs to pay interest only on the exact withdrawal amount and not the full sanctioned quantum.
The interest rate on such loans is relatively less than on credit cards.
The Interest advantage extends further as the borrower remains free of the pressure of withdrawing a minimum amount or withdrawing in advance, or withdrawing an amount larger than his requirements.
Creditworthiness
One could get a higher credit limit based on his creditworthiness and requirement.
Fund Utilization
Such types of loans come with no restrictions with regard to their usage. The borrower is free to use the funds wherever he wants. He also is not to give details of utilization to the lender.
Start-Ups
PLOC could be extremely useful for new business owners. A new business may need funds from time to time, and it could not be easy to get a new loan every time.
Easy Availability
These funds are available 24/7. So, the borrower can access the funds whenever they want, including at the time of emergency.
Disadvantages of Personal Line of Credit
These are the disadvantages of a Personal Line of Credit:
Payment
PLOC is a type of revolving credit. So, the borrower can keep withdrawing and may lose track of repayments.
Credit Score
As it is obvious, a lender approves PLOC only after reviewing the borrowers' creditworthiness. So the credit score becomes very important. Hence, anyone not having a proper credit history and credit score may face difficulty in getting such a loan.
Higher Fee
Some lenders may charge a higher fee for account maintenance. Also, some lenders may levy charges for ending a credit line.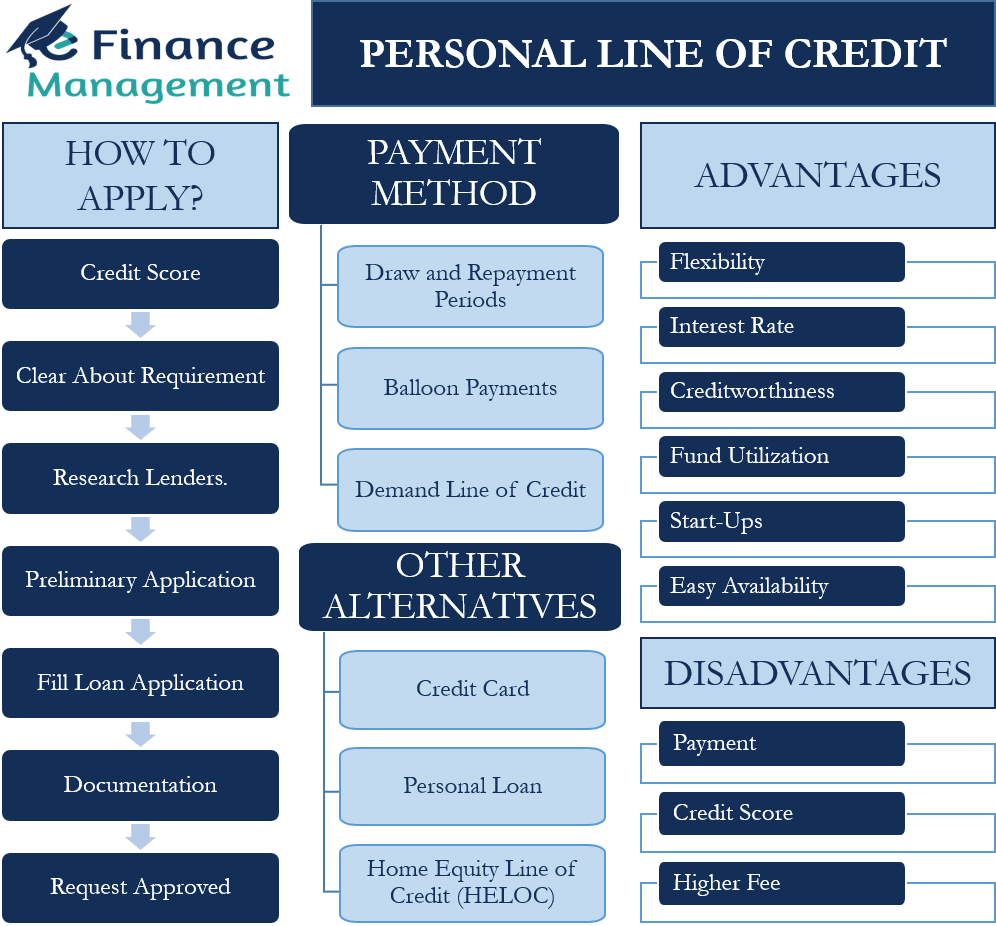 Fees Associated with PLOC
Following are the type of fees that generally comes with a PLOC:
Lenders charge an annual maintenance fee for making funds available during the draw period. It could be an annual or monthly fee.
There could also be a late payment if the borrower is unable to follow the repayment period deadline.
Some lenders may charge a small transaction fee every time a borrower makes a withdrawal.
Thus, borrowers need to ask lenders about these fees before signing any documents.
PLOC Comparison with Alternatives
There are several alternatives to PLOC. Detailed below is how PLOC compares with all of them:
Credit Card
A credit card generally has an interest-free grace period of about 21 to 25 days. Also, a credit card offers special perks, such as cashback, travel perks, reward points, memberships, and more. On the other hand, there are no such features in a PLOC, but it does come with a lower APR and a higher credit limit.
Personal Loan
In a personal loan, the borrower gets the amount in one lump sum. The borrower needs to regularly make the payment through installments. This is not a revolving arrangement but rather a one-time arrangement. Hence, for all additional requirements, the borrower needs to apply afresh for an additional loan. Thus, a personal loan is not as flexible as the PLOC.
Home Equity Line of Credit (HELOC)
A HELOC allows a borrower to borrow up to 80% or 90% of the value of your home. The borrower can use the funds to meet a range of expenses. Similar to PLOC, a HELOC has a draw and a repayment period. A HELOC generally carries a lower interest rate than PLOC because the former is a type of secured loan. In a HELOC, the borrower uses their home as collateral for getting this facility.
Final Words
Generally, a personal line of credit is useful for business purposes, especially for funding working capital needs. People, however, do use it for other purposes as well, such as renovating homes, weddings, and more. A personal line of credit certainly does have some very good features but may not suit all the borrowers. This debt gives borrowers flexibility, but if you do not have a proper repayment plan, then it is better to stay away from it.