Angel Investors are one of the easiest sources of financing for new startups. These can be known or unknown people to the entrepreneur, but they are driven by the lure of returns later, making them invest in the early stages of the business.
Who is an Angel Investor?
An angel investor is typically an individual or a high-worth individual investor who provides funding or financial support for start-ups in lieu of a stake in ownership in the company. They are usually among the family or relatives of the entrepreneur. An Angel investor is also designated as a business angel, informal investor, angel funder, or private investor who invests between $25,000-and $500,000 in the start-ups. Most investors and banks are hesitant to invest at the initial startup stage due to the high unforeseen failure risk.
Angel Investor Involvement
Apart from investing money, angel investors share their knowledge at critical stages. They help startups take their initial steps. Most angel investors are executives, or they have well-versed industry experience.
Contrary to the popular belief that an angel investor is a high net worth individual, most of them are not even millionaires. Typically, they earn $50,000 to $100,000 a per annum.
In recent times, there has been a huge spike in the number of angel investors, and one of the reasons is angel investors are not solely motivated by pure monetary returns. Angels look forward to a founder who has a drive and passion for his business to tap the huge market opportunity that they have identified. They aim to mentor and financially support another generation of entrepreneurs and make use of their experience and network that can increase the likelihood of start-up enterprises survive.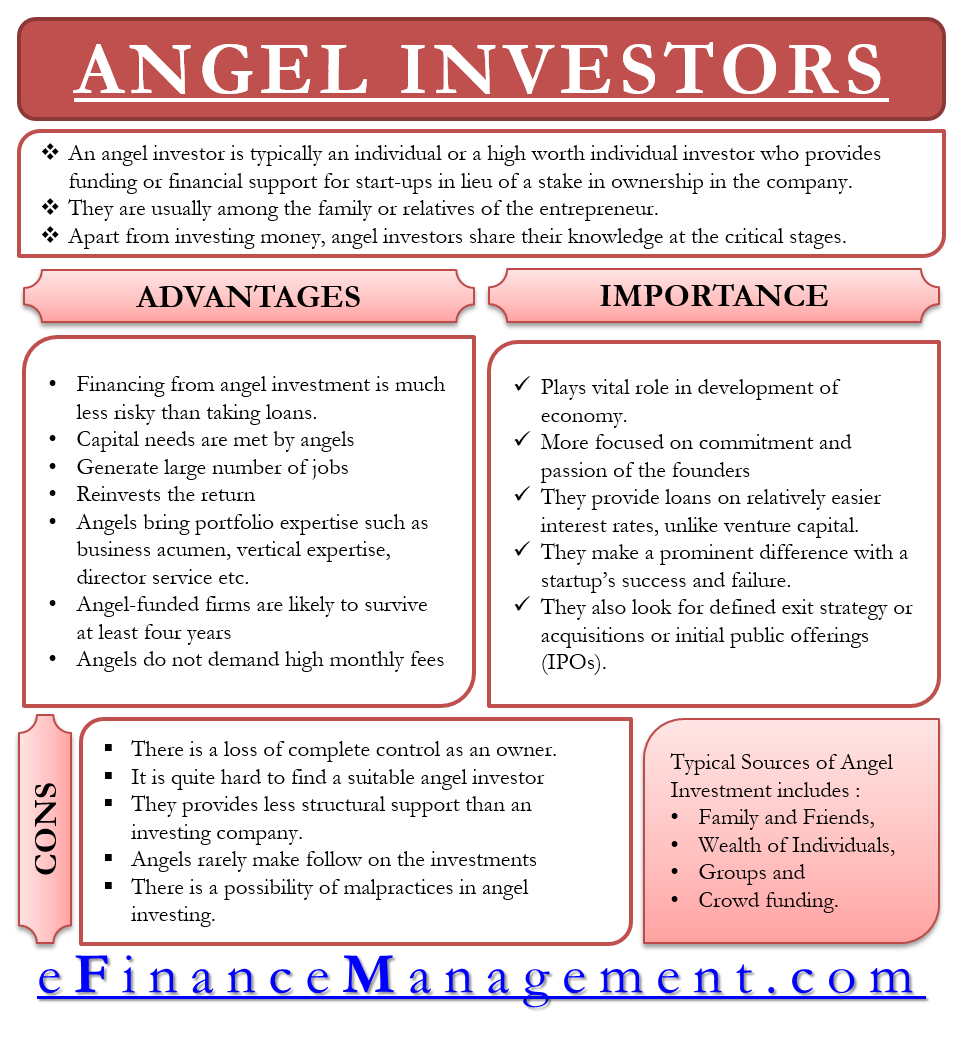 Importance of Angel Financing
An Angel investor plays a vital role in the development of the economy by providing the risk capital which contributes to economic growth and technological advances.
They are more focused on the commitment and passion of the founders and the larger market opportunities that they have identified.
To some extent, early financing of start-ups has become more dependent on angel investors, as they provide loans at relatively easier interest rates, unlike venture capital. The venture capital funds demand aggressive revenue growth quickly and are not able to accommodate a large number of small deals. The traditional source of start-up and early-stage financing-bank lending is limited due to its risk level and handling costs.
Angel investors make a prominent difference between a startup's success and its failure. Most of the time, they are the first and foremost investors.
Further, professional angel investors look for defined exit strategies or acquisitions or initial public offerings (IPOs). Due to the least interest in giving their money back or generate any return
The effective internal rate of return for a successful portfolio investor ranges from 20% to 30%. This is beneficial for the investors and for entrepreneurs, who are the primary sources of financing. Hence makes angel investment perfect for entrepreneurs who are financially struggling during the initial phase of their business.
Advantages of Angel Investing
One of the biggest advantages of the angel investor is that financing from angel investment is much less risky than taking loans. Unlike loans, investment capital does not have to be paid back even if the business fails.
Angels can meet the capital needs of startups.
Angel-funded companies generate a large number of jobs.
Often angles reinvest the returns from the portfolio.
The wealth created out of angel investing is spawning in a greater number of companies.
Angels bring portfolio expertise such as business acumen, vertical expertise, director service, and financial experience.
They differentiate between job creation and wealth creation
Angel-funded firms are likely to survive at least four years and raise additional financing outside the angel group.
These firms are to showcase improved venture performance and growth in website traffic and website rankings. This improved gain ranges from 30 to 50%.
Angels do not demand high monthly fees and are located practically in all industries.
Further, angels can bring vast knowledge and experience to a new company.
Disadvantages of Angel Investing
The primary disadvantage of using angel investors is losing complete control as an owner.
If compared to venture capital, it is quite hard to find a suitable angel investor.
Business Angel provides less structural support than an investing company.
Angels rarely make follow on the investments.
Further, there is a possibility of malpractices in angel investing as well.
Typical Sources of Angel Investors
Family and Friends
One of the most common sources of funding to generate instant capital is family and friends. New business ventures might have the risk of failure, leaving an impact on those who have invested in the business. The risk associated with the business is quite necessary to be upfront.
Wealthy Individuals
It includes individuals like doctors, lawyers, and others that have a net worth and are willing to invest around $500,000 in return for equity. This process can be done verbally through local chambers of commerce and the like.
Groups
Angels operate as part of an angel syndicate (a group of angel investors) that accordingly raises its potential investment level. A professional syndicate team chooses the investment option where funds are to be invested.
Crowdfunding
It is a form of an online investing group., Crowdfunding involves raising funds from large groups of individuals who invest amounts as small as $1,000.
It is very important for entrepreneurs to think before accepting an angel investment. Qualities and benefits that it is bringing to the table besides money, such as expertise in business, contacts, and managerial skills. It's also important to have a comprehensive business plan in place. As a small business, you'll need it to secure financing from lenders or investors.
Also, an angel can be a wise addition to your business decisions. They can help increase your market and become a sounding board for your ideas. Finding the appropriate angel at the right stage of the business can make a world of difference to your business.
Also read – Sources of Finance for Small Business