About eFinanceManagement.com
eFinanceManagement was founded in July 2009 by FCMA Sanjay Borad with a clear intention to help aspiring students of finance, teachers, professors, lower and middle-level management understand concepts of corporate financial management in a most simplified explanation.
What do we do?
We have been consistently creating and covering financial topics for the last 13 years. We have written 2000+ posts covering the following aspects of corporate finance:
Various sources of finance, whether long or short term, their features, advantages, disadvantages, how to evaluate suitability, what mix of debt and equity, etc.
How to effectively manage working capital?
Basic terms of financial accounting and their accounting treatment.
Evaluate the performance of an organization using financial analysis.
Evaluate Investment Proposals using appraisal techniques for effective Investment Decisions
Understand the terms of costing or management accounting.
Budgeting, Derivatives, Economics, etc
Our Mission
Explain Financial Management Concepts in Layman's Terms
Our Vision
Finance Professionals and Aspirants should have Free Access to the Best in Class, Accurate and Easy Explanations of Financial Concepts.
History, Purpose, and Conceptualization
Let's listen to the history, purpose, and conceptualization of eFinanceManagement in the words of the founder, Mr. Sanjay Borad.
It was the time between 2004 and 2006 when I was pursuing my 2-year full-time Master of Business Administration (MBA) in Finance in India. In the second year of our degree program, we had to choose one of the specializations in Finance, Marketing, or HR. Very few students opted for finance for the following reasons:
Finance is very tough, and not my cup of tea.
I am not as good at maths as to opt for Finance as a specialization.
Studying full nights is not something I can do.
During my MBA, I discovered my passion for learning and teaching finance, and that inspired me to help a lot of my fellow students understand financial concepts.
Continuing this passion, from 2006 through 2009, I visited various MBA colleges and other professional coaching classes as a visiting faculty for various subjects like Financial Management, Costing, Accounting, etc. I witnessed a lack of in-depth understanding of the concepts of finance in students, and at the same time, there were not very good and readily available resources to clear their doubts. Not only that but as a working professional, I also felt a need to brush up on financial concepts regularly so as not to forget the hard-earned knowledge.
Ultimately, in July 2009, for the well-being of students and working professionals at large, I decided to create a website that produces world-class explanations to break myths and fears about finance and is available 24 x 7.
Since then, our aim has been to cover all the concepts of financial management in layman's terms. We aspire that readers' search for learning any financial concept should end after reading our explanation. We try and pinpoint what the missing link is in the student's mind that hinders correct understanding of the concept.
Thankfully, by God's grace, our readership is across the globe. We are able to benefit readers from the US, UK, Canada, Australia, India, Malaysia, and Singapore, and the list goes up to 250 countries all over the world.
About the Founder
Mr. Sanjay Borad is the proud owner and founder of eFinanceManagement.com. Most of the content on the website is created and edited by him.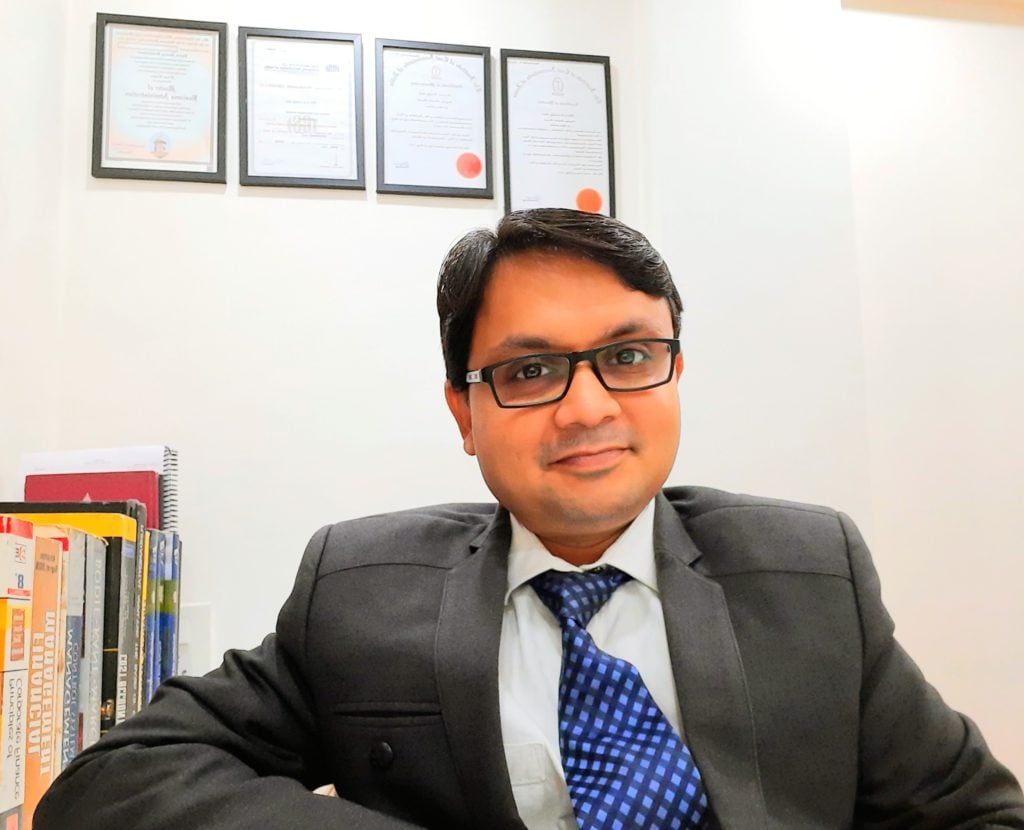 Primary Qualifications
Masters of Business Administration in Finance from Som Lalit Institute of Business Management (SLIBM), an All India Council for Technical Education (AICTE) approved Institution affiliated with Gujarat University.
Fellow Member of Cost and Management Accountant (FCMA) in the Institute of Cost Accountants of India (ICMAI)
Company Secretary from the Institute of Companies Secretaries of India (ICSI)
Bachelor's Degree in Commerce (B'Com) from H A College of Commerce (HACC)
Certifications
Security's Market (Basic) Module from NSE's Certification in Financial Markets (NCFM)
Certified Six Sigma Yellow Belt at Vodafone Essar Shared Services Limited (VESSL)
Industry Experience (2006-2012)
He started his career with Citigroup. Gained experience by understanding the company's lending policy and sophisticated processes to prevent the event of fraud. He joined Futures First Info Services Private Limited, GHF Group, a UK based MNC where he enhanced his experience by trading in derivatives of fixed-income instruments like Euribor and German bonds.
He then worked with a merchant banker and served in the areas of Private Equity, IPO, and Project Financing. He undertook the preparation of Valuation Reports, Company and Industry Comparison Reports, Financial Modeling and Analysis, Drafting of Information Memorandum and DRHP, Due Diligence Report, etc.
He has also worked with the world's largest telecom company – Vodafone, for 3 years. He gathered experience in the area of accounting by understanding the sophisticated accounting processes of Vodafone, which are divided into various departments such as P2P, O2C, TCM, L2D, R2R, MDA, UAM, Testing, etc. His hands-on experience in SAP, at Vodafone, adds strength to his experience. By taking part in many cost reduction and automation initiatives, he acquired the "Six Sigma Yellow Belt" Certification. He brought out drastic improvements in certain processes using basic tools like Excel, Access, Macro, etc.
At Vodafone, he enriched his experience by working on setting up the finance operations for its new business vertical, i.e., MPaisa – Mobile to Mobile Money Transfer. While liaisoning with banks, IT partners (IBM), and the Mpaisa team, he helped Vodafone to integrate the system as per Indian laws and practices.
Teaching / Academic Experience (2006 to Conti… )
He has been a Guest Faculty in many institutions – Ahmedabad Management Association, Royal Business School, Anagram's Knowledge Academy, Saint Kabir Institute of Professional Studies, Ahmedabad Chapter of Cost Accountants, and SAL Institute of Business Management.
Management Consulting and Advisory Experience (2012 to Conti… )
In 2012, with a rich MNC's experience of 7 years, he decided to quit his job and help implement the high-end processes of MNCs into small and medium-sized organizations through consulting.
His clientele includes SMEs as well as established MNCs in various industries. Some of them are privately held companies, while others are public limited or listed companies on various Indian stock exchanges. In a practice period of around 11 years, he has served 40 companies in diverse industries. The following is a brief snapshot of industries with their respective products to explain our footing to render consultancy and statutory compliance services.
Aluminium & Aluminium Products (Foils, Wire Rods, Ingots, various De-oxidants)
FMCG (Frozen Foods, Packaged Food Products, Wafers, Sweets)
Engineering and Automotive Components (Brake Drums, Housings, Hubs, CNC Machines)
Tiles (Ceramic, Vitrified, Frit, Marble Slabs)
Electronic Components (Printed Circuit Boards)
Organic and Inorganic Chemicals (Food Colours, Polymers, Industrial Re-agents, Dyes, Resins, Fibre Re-inforced Plastics)
Textiles (Spinning & Weaving, Processing)
Paper and its products (Corrugated Boxes, Laminates, Offset Cartons)
Ship Breaking
Construction and Infrastructure
Dairy Products (Ice Cream, Milk, and Milk Products)
Furniture and Fixtures (Wooden cabinets, Doors, Kitchens, Living rooms)
Consumer Electronics (Mixture, Grinder, other Consumer Appliances, etc)
Plastics (Technical Textile) (Cement & Fertilizer Bags, Construction Fabric, FIBC, GeoTex etc)
Dangee Dums – A chain of Restaurants and Cake Shops.
Plastics (Blow & Injection Moulding) (High and Low-Density Bottles, Caps, Ring, etc)
Hospitals (Multispecialty) – Hospital chain with more than 400 Cr. Turnover. – Gas
Detectors and Monitoring (UPL Group)
Amusement Park
Kitchen Appliances (Philips Group)
Our Social Media Profile
Follow us on Social Media at
Start Learning
Check out all of our categories or search through our website.