Definition of Global Depository Receipt
Global Depository Receipt (GDR) is an instrument in which a company located in domestic country issues one or more of its shares or convertibles bonds outside the domestic country. In GDR, an overseas depository bank i.e. bank outside the domestic territory of a company, issues shares of the company to residents outside the domestic territory. Such shares are in the form of depository receipt or certificate created by overseas the depository bank.
Issue of Global Depository Receipt is one of the most popular ways to tap the global equity markets. A company can raise foreign currency funds by issuing equity shares in a foreign country.
Global Depository Receipt Example
A company based in USA, willing to get its stock listed on German stock exchange can do so with the help of GDR. The US based company shall enter into an agreement with the German depository bank, who shall issue shares to residents based in Germany after getting instructions from the domestic custodian of the company. The shares are issued after compliance of law in both the countries.
Global Depository Receipt Mechanism
Let's now look at the advantages and disadvantages of Global Depository Receipt.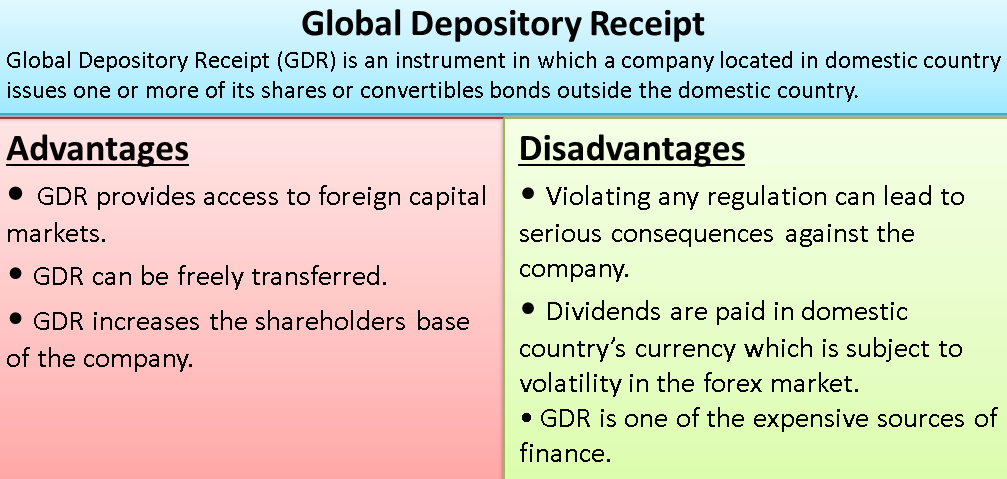 Advantages of GDR
The following are the advantages of Global Depository Receipts:
 Disadvantages
 The following are the disadvantages of Global Depository Receipts:
Conclusion
GDR is now one of most important source of finance in today's world. With globalization, every company is willing to expand its wings. GDR makes it possible for such companies to reach and tap international markets. GDR provides companies in emerging markets with opportunities for rapid growth and development.
References:
August 31st, 2017
What's your view on this? Share it in comments below.