Meaning of Letter of Credit
A letter of credit is a written undertaking by the buyer or the buyer's bank, known as the issuing bank, to pay a certain amount of money to the seller or seller's bank, i.e., the negotiating bank or the accepting bank.
LC Payment Terms and Conditions
There are certain LC payment terms that must be fulfilled when the letter of credit is issued. The LC terms are:
Beneficiary/exporter and the issuing bank who has undertaken the obligation to make the payment should confirm the letter of credit.
There must be a clear mention of the due date by when the beneficiary/exporter shall receive the payment from a bank issuing the LC.
The letter of guarantee commitment should clearly specify the percentage or the amount of risk associated with the confirmed letter of credit issued by the bank.
The letter of guarantee commitment relating to the guarantee issued should be precise and clear.
The export agreement should be properly drafted, covering all the relevant information.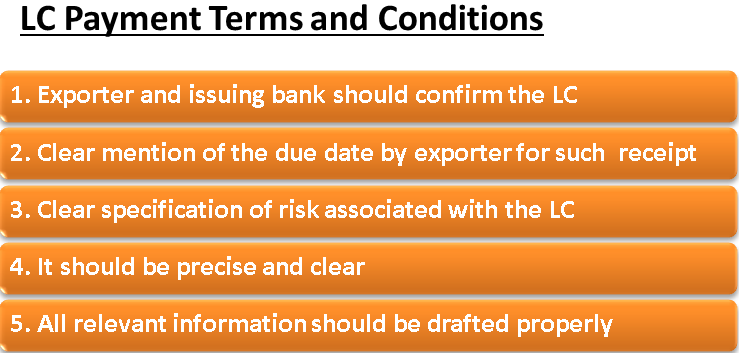 LC at Sight Payment
Letter of credit at sight payment is among the fastest modes of payment for the sellers.
Under LC at sight payment, the seller/exporter receives the payment within 7 to 10 days of fulfilling the conditions of the letter of credit. Like LC at sight payment, there are various other types of LC.
LC at Sight Payment Terms
The seller/exporter needs to submit the required documents to the bank to get the payment quickly. Apart from a letter of credit, he is required to submit all the documents that prove he has met his obligations. For example, he must submit the documentary proof for shipped goods, i.e., bill of lading. The bank reviews the documents submitted and verifies their authenticity.
Conclusion
A letter of credit has great significance for the seller/exporter. Whenever the seller or exporter is in urgent need of money, and the buyer is unable to pay, then the LC can be used to get the payment from the bank. LC at sight payment provides immediate payment after fulfilling certain conditions by the exporter/seller. Utmost care should be taken while fulfilling the terms of LC; otherwise, it could lead to rejection of payment by the bank.
Quiz on LC Payment Terms
Let's take a quick test on the topic you have read here.