Before understanding equipment leasing companies, let us briefly understand the term 'Lease.'
What is Lease?
The term 'Lease' refers to a contractual agreement between two parties, namely the Owner and the Hirer. The owner is known as the 'Lessor,' and the hirer is known as the 'Lessee.' The process of leasing involves an arrangement wherein the lessor grants permission or right to the lessee to use an equipment/asset which the Lessor owns. In exchange for this permission or right, the lessee makes rent payments periodically. The agreement involving a lease for equipment is called an equipment lease agreement.
What are Equipment Leasing Companies?
Equipment Leasing Companies are Non-Banking Finance Companies engaged in the business of granting permission of lease for machinery or equipment to a hirer. In Equipment Leasing terminology, the company leasing the equipment is the owner, called the lessor, and the hirer of the equipment is called Lessee.
These Companies allow the hirer to use the machinery or other equipment on a periodic rental basis. The ownership of the equipment is retained by the Leasing Company/ Financial Institution while the business (lessee) makes use of the equipment. This helps the business as it can acquire the use of equipment without purchasing it. Therefore, equipment on lease cuts down the cost of purchasing the equipment for the lessee.
Equipment Leasing Companies in the United States of America
Following is the list of a few top leasing companies in the USA:
Wells Fargo Financial Leasing
AIG Commercial Equipment Finance
Hitachi Capital America
TCF Equip
Great America Leasing Corporation
M & I Equipment Finance
People's Capital & Leasing
Relational Technology Solutions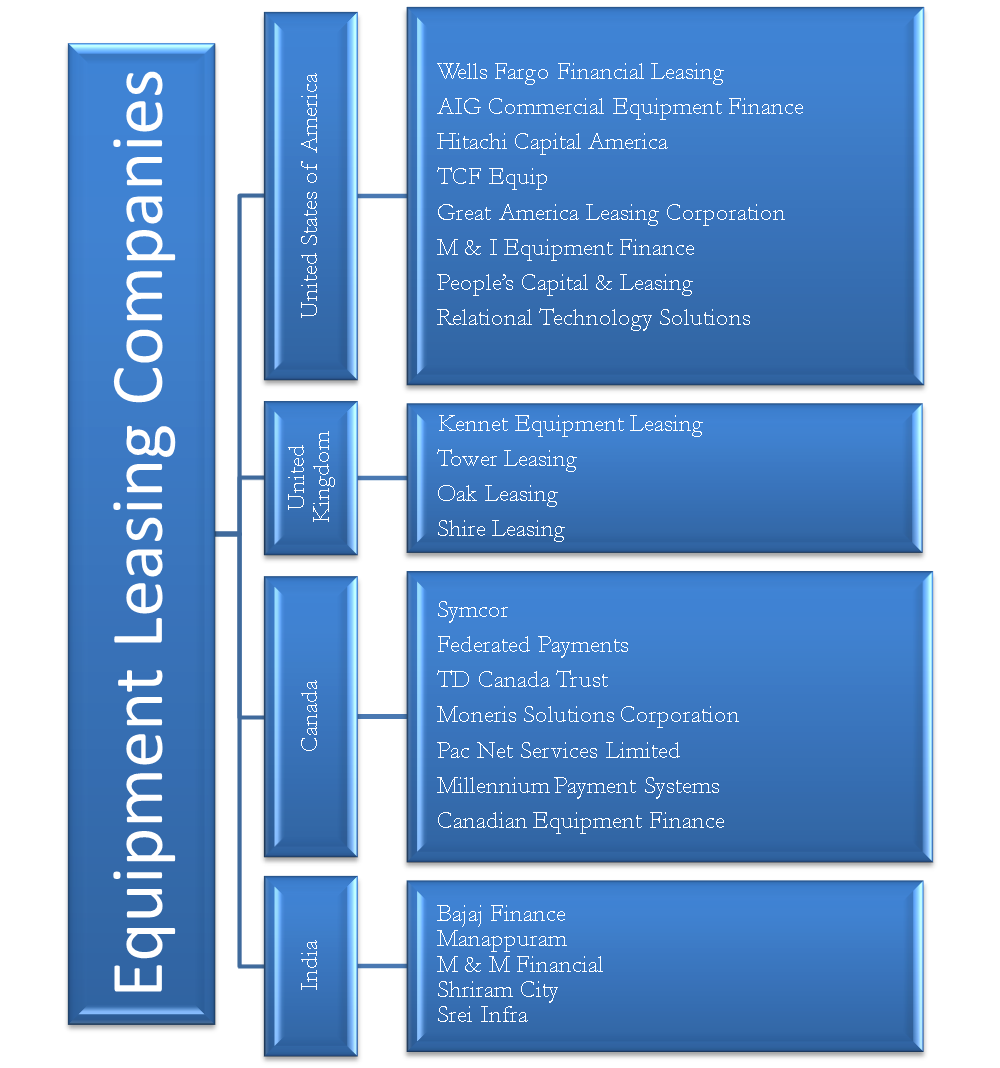 Equipment Leasing Companies in the United Kingdom
Following is the list of some top companies for equipment leasing in the UK:
Kennet Equipment Leasing

Tower Leasing

Oak Leasing

Shire Leasing
Equipment Leasing Companies in Canada
A list of a few top equipment leasing companies in Canada is as follows:
Symcor

Federated Payments

TD Canada Trust

Moneris Solutions Corporation

Pac Net Services Limited

Millennium Payment Systems

Canadian Equipment Finance
Equipment Leasing Companies in India
A few top equipment leasing companies in India are below:
Bajaj Finance

Manappuram

M & M Financial

Shriram City

Srei Infra
Conclusion
Equipment Leasing has certain disadvantages like the lessee may not be allowed to use the equipment fully, or he cannot make any substantial change in the asset, etc. But there are various benefits of Equipment Leasing, especially for the lessee. Like, as the use of the latest technology, low cost in comparison to term loans, etc. After considering both benefits and risks, the lessee and lessor must enter into an equipment lease contract.
Quiz on Equipment Leasing Companies
This quiz will help you to take a quick test of what you have read here.