Remittance Advice (RA) is a document that a buyer sends to a seller conveying that an invoice is paid. Although not mandatory, the buyer often sends it as a gesture of goodwill. They serve as proof of payment and, thus, are equivalent to a cash register receipt. One can issue it in the form of paper or electronic form.
Basic information in RA includes notes or letters mentioning the invoice number and the invoice amount. Some firms also send RA with invoices that customers can send back with the payment. Nowadays, one can also use software to scan and save remittance advice in the online system to enable data entry at a later stage.
One can send such a slip by email or snail mail. If you send it via email, then you have to make sure that you have the correct email address. You can also send it via snail mail. If you use this route, then you should send it at the same time you send the payment via cheque. Also, do ensure that you send it to the supplier's remittance address.
Remittance Advice – What it Includes?
A remittance advice should include:
Name and address of the buyer
Name and address of the supplier
Date of the remittance
Remittance Amount
Tentative date when the supplier can expect the payment in all completeness
An invoice number
Payment amount
Method of Payment
Businesses that follow the practice of receiving remittance advice might also send the format along with the invoice to the customer. In such a case, the buyer needs to fill in the relevant details in the specific format that the seller wants.
It is better to print remittance advice on the company letterhead. The letterhead must include the contact number of the person who will be able to answer all queries or questions. Also, do ensure that you include any tax detail if it is of importance. Or you can consult a tax expert to know about the applicable tax.
Advantages of Remittance advice
Remittance advice helps maintain records and is beneficial for the customers who pay through cheque.
It helps the receiver of remittance advice to compare the amount of payment sent by the buyer with the actual due amount.
If a company is tracking the payment electronically, then it can fill in other details by scanning the slip.
Types of Remittance Advice
Basic Remittance Advice
Simply put, it is a type of note defining the invoice number and total payment.
Removable Invoice Advice
In some invoices, the seller would send a slip along with the invoice. The buyer needs to fill these removable slips and send them back as remittance advice.
Scannable Remittance Advice
Various software is now available to create remittance advice, which one can easily scan into computer systems for electronic record keeping.
Should You Keep It?
A company must maintain a record of all remittance advice that it gets and sends to suppliers. An accounts manager must keep these in the proper order to ensure they are available for reference later in case of any discrepancies or disputes. Further, the accountant might also want to have a look at the advice copies to check end-to-end accounts. This will ensure that there is no difference between the payment and invoices.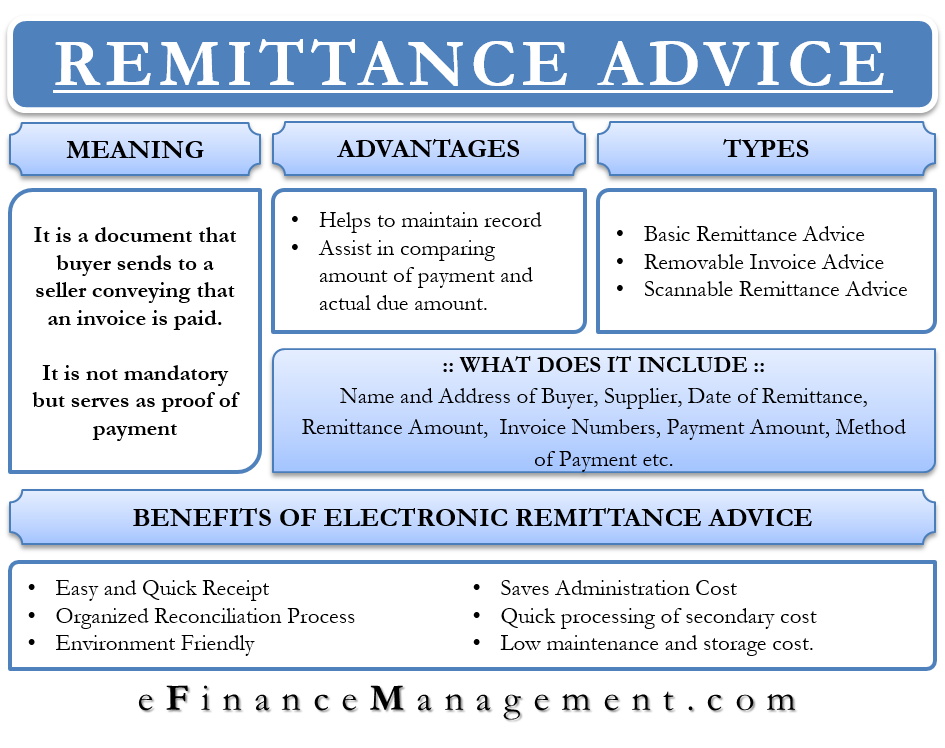 Benefits of Electronic Remittance Advice
Most businesses now use electronic remittance advice (ERA) instead of standard paper remittance. It is because there are various benefits of ERA over the standard ones. Let us understand the detailed benefit of electronic remittance advice in comparison to standard paper remittance.
Easy and Quick Receipt
Electronic remittance offers customers an option to receive remittances on the day of finalizing the claim. This is better than paper remittance, where parties need to wait until they receive it in hand through mail or courier.
Organizes Reconciliation Process
Billing software these days comes with an option to auto-post electronic remittances. This helps the staff to reconcile the outstanding balances more efficiently.
Environment-Friendly and Saving on Administrative Cost
Since ERA does not involve the use of paper, it makes the entire process environment-friendly. This helps the company to reduce printing and paper costs. Also, with ERA, staff needs less time to review and file records.
Quick Processing of Secondary Claims
Since the customer gets a quick receipt of the remittance over mail, they can forward the same to the people who require it or need specific information.
Cost of Storage and Maintenance is Low
Since it is not a paper receipt, there is no fuss about creating a separate place for holding all receipts. Therefore, maintenance and storage cost reduces significantly.
Reducing Use
Some industries follow the practice of sending remittance advice more actively than others. However, the practice is becoming less popular with days. Also, with the rising popularity of online payment, remittance advice has become redundant. Nevertheless, if you make a payment online, you can still make things easy for the supplier by sending a note via an email informing them about the invoice number for which you made the payment.
Another Use
Another use of remittance advice is with the insurance payer. They use it to provide notice and explain the reason of payment, denial, adjustment, or any other note. Usually, Medicare companies use RA, and they also call it an explanation of payment (EOB).