Who is a Fund Accountant?
A fund accountant is a skilled and organized person who can prepare and maintain accounts related to a specific fund. A fund is a pool of money set aside for a specific purpose. It is often well organized and managed systematically in order to generate returns from the investments made. Some common types of funds are mutual funds, pension funds, insurance funds, etc. Therefore, a fund accountant is a person assigned to the work of fund accounting.
Responsibilities of a Fund Accountant
A fund accountant is responsible for providing analytical support and methods to solve complex technical problems in financial planning.
Prepare consolidated financial statements and investor reports for major investment decisions.
A fund accountant also needs to relate the sources of funds with their intended legal use.
Fund accountants are also responsible for their assigned institutional or mutual funds including net assets values yield and also for the accounting of the investment portfolio.
Fund accountants conduct regular analyses of various financial metrics to help firmly set a price and value their funds; they also process and calculate report income, expenses, and item-specific accrual statements including a dividend or interest income worksheet and other schedules including treasury bills.
They inspect and record security transactions including trade and interest payments to ensure they are in compliance with legal frameworks and protocols.
Other Responsibilities
Other major responsibilities of a fund accountant include:
Analyzing the cash flows and fund management periodically.
Working on the annual and quarterly financial and income statements.
Ensure that the software has been kept updated.
Play a major role in the internal audit proceedings.
Conduct meetings with the board to discuss potential acquisitions.
Review the compliance and regulatory framework.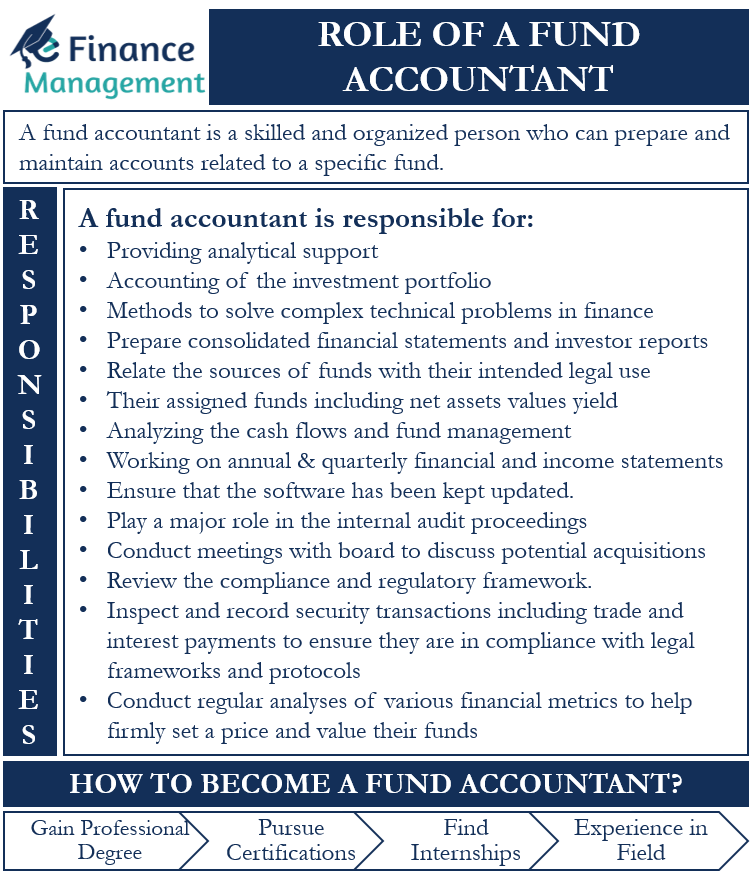 How to Become a Fund Accountant?
Gain A Professional Degree
To become a fund accountant, one typically requires a bachelor's degree in accounting or a similar field. It is mandatory for your degree to cover topics like auditing, assurance, managerial accounting, cost, and finances.
Pursue Certifications
You can use certificate courses to further your knowledge on various subjects and pursue specifications. Here are certain certifications you might consider:
Certified Public Accountant (CPA)

Certified Management Accountant (CMA)

Chartered Certified Accountant (ACCA)

Certified Investment Management Specialist (CIMA)

Chartered Global Management Accountant (CGMA)

Certified Resume Specialist in Accounting And Finance (CRS+AF)
Find Internships
Both theoretical knowledge and practical experience are equally important for finding a job opportunity for fund accountants. An effective way is to work as an intern with accounting firms. Internships allow you to become familiar with working in a professional environment and apply the skills and knowledge. You can also do this part-time while pursuing your degree to gain practical knowledge.
Gain Experience in the Field
To become a professional fund accountant you might have to start your journey with an entry-level accounting job as a company looking for experienced candidates to manage their funds it is ideal to gain experience first and then build your way up.
Most Preferred Skills
A good hand of

calculations and reconciliations

Knowledge about the securities market
Great communication skills
Conclusion
A fund accountant plays a major role in maintaining the company's financials and major decisions. Therefore, it is important to hire someone who is well-qualified and experienced and who can potentially make the right decisions that are feasible for the business.