Accounting Information System or AIS assists companies to gather, save, analyze, and report financial and accounting data that is of use to internal management, accountants, as well as third parties, including analysts, tax agencies, and auditors. In simple words, we can say that it is a system that gathers and saves all accounting information pertaining to the financial dealings of a company with outsiders and insiders. Since the accounting information system relates to all accounting and business activities, it won't be wrong to say that it has a noticeable impact on the financial health of a firm in a number of ways. In this article, we will take a look at how accounting information system affects the financial health of a firm.
Impact of Accounting Information System on a Firm's Financial Health
As said above, there are a number of ways in which AIS affects the financial health of a firm. For instance, AIS offers greater accuracy when it comes to recording financial transactions. Moreover, they allow employees and managers to access the information they want, while at the same time limiting access to sensitive information. This, in turn, helps to detect, as well as prevent fraud.
Thus far, you would have got some idea of how the accounting information system affects the financial health of a firm. Now, let's look in detail at the ways "how accounting information system affects the financial health of a firm":
Accurate Financial Reporting
Since AIS is automated, it is accurate. Common mistakes, such as calculation errors, posting twice, and more, are avoided with the use of AIS. It eventually results in accounts and reports being more accurate and reliable than what management gets with manual accounting.
Better Decision-making
It is capable of generating all types of financial reports with minimum human intervention. Managers just need to enter the dates and other details for which they want the report. Quick and timely reports aid in better and more informed decision making, in turn, improve the financial health of a company.
Timely Reporting
An AIS allows for timely reporting of financial data, which enables management to react quickly to changes in the financial health of the firm. Books closing is usually a busy period for accounts be it monthly, quarterly or yearly. Companies need to prepare the unadjusted trial balance, post the adjustment entries and closing entries, and create the adjusted trial balance. All this accounting cycle requires a lot of effort and time. But with AIS, all this gets quite easy and convenient as computers handle most of the work. Timely reporting also helps to identify problems and make necessary adjustments.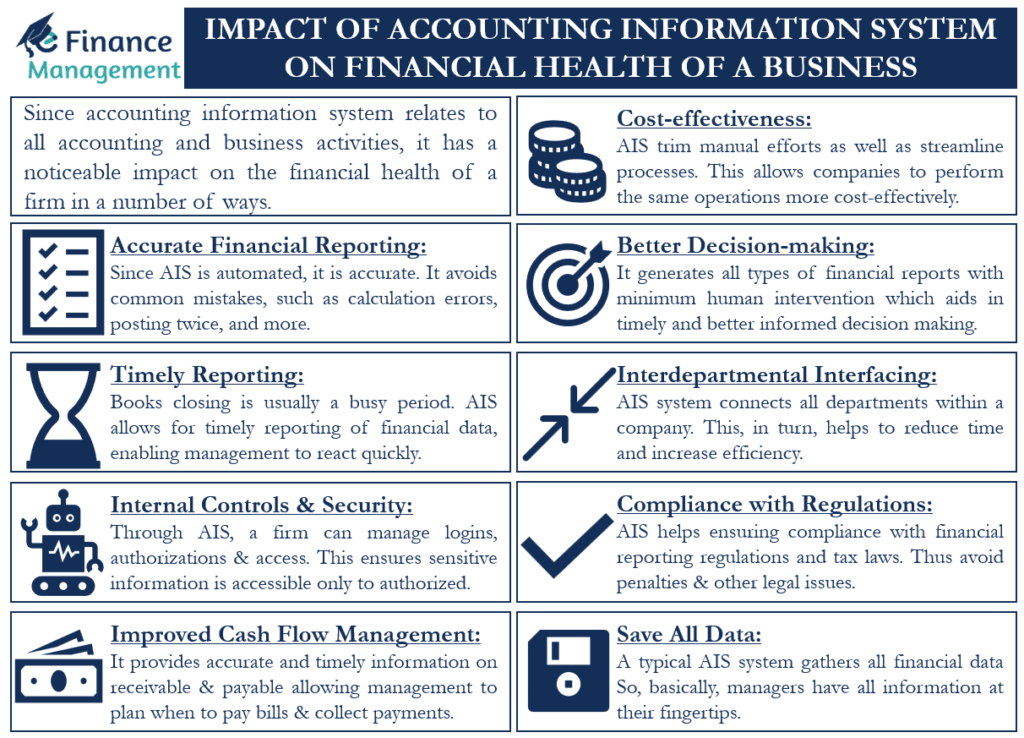 Interdepartmental Interfacing
AIS system connects all departments within a company. This, in turn, helps to reduce time and increase efficiency. For instance, if the sales department uploads its budget in the AIS system, other departments would be able to use that information to adjust their budgets accordingly. Moreover, the new order information is quickly shared across departments, allowing them to prepare for the order at their level. This eventually boosts operational efficiency.
Internal Controls and Security
A firm can easily place its policies and procedures in the AIS. Moreover, through AIS, a firm can manage the logins, authorizations, and access. This helps to ensure sensitive information is accessible only to those who are authorized.
Cost-effectiveness
AIS helps to trim manual efforts, as well as streamline processes. This, in turn, allows companies to perform the same operations more cost-effectively. It eventually leads to significant cost savings and more profits in the long run.
Improved Cash Flow Management
AIS automates accounts payable and receivable as well. It provides accurate and timely information on accounts receivable, accounts payable, and inventory levels. This information allows management to make informed decisions about when to pay bills and when to collect payments.
Companies can pre-select a date on which it needs to make the payment, and the AIS will automatically send the payments on that date. Moreover, there is always an option to unselect bills for which the company doesn't want to make the payment. Similarly, AIS makes billing easier as well. The system can generate the bills daily, weekly or monthly, depending on the company's credit cycle.
So, we can say that AIS makes accounts payable and receivable more efficient, resulting in better and smooth cash flows. This, in turn, reflects positively on the company's financial health.
Save All Data
A typical AIS system gathers data on inventory, tax, customers, purchases, sales orders, vendor invoices, payroll details, and more. So, basically, managers have all information at their fingertips.
Compliance with Regulations
An AIS help to ensure compliance with financial reporting regulations and tax laws. This helps to avoid penalties and other legal issues that can negatively affect the financial health of a firm.
Final Words
Accounting information system (AIS), no doubt, is a boon for companies, and the above points prove that. It is beneficial, both for the top management, as well as for managers and other staff. It makes information easily accessible in a cost- and time-effective way. And, all this reflects positively on the financial health of a firm. Also, it won't be wrong to say that a firm adopting AIS has an edge in benefitting from the dynamic business environment.