Doing all the accounting work manually in an organization is not possible. Even if accounting managers do so manually, it may have errors and be inconsistent. This will defeat the very purpose of accounting. To overcome these issues, account managers nowadays use one or the other software for accounting. Most of such software available in the market might look the same, offering similar features and functionality. However, those who use such software regularly, such as accounting managers, would know what makes one better than the others. While basic features would be the same in each software, it is those minor tweaks or advanced features that make the difference. Best accounting software is usually those that offer various functions beyond the standard options that make them stand out and popular with the accounting managers.
If you are also looking for the best of the software, then you have come to the right place. In this article, we will not name the best accounting software. Instead, we will tell you what to look for while selecting appropriate software for accounting. Software that is best for one user does not mean that it will be perfect for others as well. It all depends on what your needs are and what you want from the software.
Best Accounting Software – Must-Have Features
Some basic functions that most accounting software offers are general ledger management, cash flow management, financial projections, and so on. However, what makes the difference is the extra (but useful) functions that these software offer. So, let us have a look at some of the must-haves' in such software.
Ease of use and cost-saving
This is the first thing to look for. The software should be easy to work with and understand. Accounting software should simplify complex tasks, thus saving a lot of hours that would have been otherwise spent on manual calculations.
Reporting and Analysis
Every accounting manager desires robust and accurate software for collecting, reporting, and analyzing data. In order to plan for the future, the managers need insight into the current situation, but doing this becomes a little challenging manually. Thus, the software you choose should be smart enough to analyze the data and produce something worth taking action on.
Inter-operability
Good software is one that has the ability to report and analyze data on its own and also from other software. Inter-operability simply means that the software should be capable of using data from other software by importing it. Further, it should also be able to export data that should serve as an input for other software. An organization usually uses more than one software; therefore, interoperability is a much-needed feature.
Connectivity
Robust software with a good internet connection is one of the topmost priorities for managers. Apart from the integration with the existing devices, the software should also have good internet connectivity.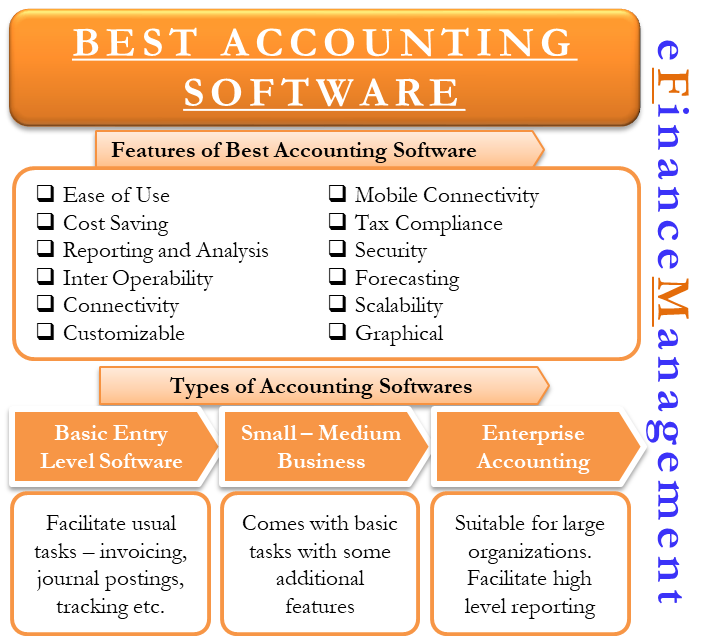 Customization
This is one of the most important things to consider when looking for the best accounting software. Most such software is rigid, meaning they don't allow customizations. There is, however, software that allows users to customize reports, functions, and interfaces like the way they want.
Mobile Connectivity
Once considered as an elite feature, most accounting software now comes with a mobile reading option. Further, they also have Android and iOS apps of their own to make it easier for the account managers to work on the go. So, you must go for the software that offers mobile apps along with the desktop version for ease of use.
Tax Compliance
Some of the best accounting software in the space is in line with the tax regulations. The managers using this software do not need to do anything, and the software takes care of everything from payroll to tax compliance.
Security
A company spends a significant portion of its budget to keep its data, including financial data, safe. A company's financial data is extremely confidential that should not be leaked and known only to the most confidential in an organization. To ensure this, accounting software must have an inbuilt security system to prevent data from getting compromised in any way.
Forecasting
Collecting and analyzing data are the pre-requisites of forecasting, and good software should be capable of doing that. It must also help understand the overall budget, spending and identify areas where the company needs to cut down on the cost.
Scalability
When you are buying accounting software, you should keep in mind that it is able to handle transactions when the business grows bigger. Either it should be able to accommodate automatically or could be easily upgradeable to handle future business needs.
Graphics
Though accounting is all about numbers, yet the visual presentation of those numbers makes it relatively easy to understand. Moreover, it also helps in making decisions.
Type of Accounting Software
They can broadly be classified into three categories:
Basic entry-level software
Such software help with usual tasks such as invoice and expenses, online payments, tracking time spent, setting alerts for late payments, bill tracking, and so on. Small and medium enterprises use entry-level accounting software.
Small to medium business accounting
Such software comes with all the basic features in addition to a few advanced features, such as inventory, point of sale, purchases, human resources, and so on. Therefore, this software is not just basic accounting functions; but many call them as an enterprise resource planning solution.
Enterprise accounting
This software is suitable for large enterprises and offers features such as customer relationship management, customer engagements, etc. In addition, such software also provides a high level of accounting and reporting, among other features.
Final Words
Hopefully, you will now be able to select the right accounting software. Do keep in mind that you should only go for the software that meets all your needs and also fits in your budget. Some of the popular accounting software currently are Zoho Books, QuickBooks, FreshBooks, Xero, ad wave.