What is a Brownfield Investment?
A Foreign Direct Investment (FDI) is a cross-border investment. In FDI, an investor- an individual or a firm- invests in a business opportunity in some country other than his own. The investor can invest by means of a merger, acquisition, or building a new business from scratch. Brownfield Investment is a type of FDI. In this case, an investor invests in an already existing facility instead of creating an altogether new set-up. This helps in saving precious time and a lot of money. Also, it helps in the efficient utilization of already deployed resources in the business.
The investor can either make an outright purchase or lease an already running facility. Also, he can work with an existing organization by means of a merger. Moreover, the investor can become a partner or buy out a partial stake in the existing running business. There is mostly no fresh need to take regulatory approvals from the authorities as the plant was already operational. Such investments are most popular in cases where the planned new activity is similar to the activity that was being performed earlier.
"Brownfield" as a terminology means that an activity is already being performed on the land even before the new investment has taken place. Hence, it is not green, and there is no vegetation cover on it, as can possibly happen in the case of a Greenfield investment. Moreover, the term applies to all sorts of investment activity, whether it is cross-border or domestic investments.
What are the Advantages of Brownfield Investment?
There are a number of advantages of a Brownfield Investment as follows:
Easy and Fast Set-up
A Brownfield investment is easy to set up since the facility already exists. Also, it is the fastest and saves a lot of time and formalities for the investor. He can start his business activities without wasting much of his precious time since the market is already ready. Also, there is a possibility that there is no requirement for new regulatory approvals. It is so because the facility was already an operational one.
Effective use of Available Resources
Such an investment method is an effective way to use already existing resources in the best possible manner. The new investor can save a lot of money. He already has all the setup in place that is of need to perform his business activities. Hence, it is very cost-effective with little need for new fixed investments. Building and production facility, supporting infrastructure, human resources, etc., can all be of use as it is from the previous business facility. Any changes, if required, can be easily made at a little cost.
Access to Local Intelligence
The new investor gets easy access to local knowledge from the skilled human resource already on the payrolls of the former company. He saves a lot of time, effort, and money as there is no need for intensive research to know and understand the work culture, needs, and demand patterns in the new country.
Benefits to the Environment
In some instances, such an investment is made on the old, unused, and wasteland of a former organization. In several cases, such investment helps in the restoration of old, dilapidated factory structures and buildings. Thus, the Brownfield investment helps restore the ecological balance and clean up the hazardous mess.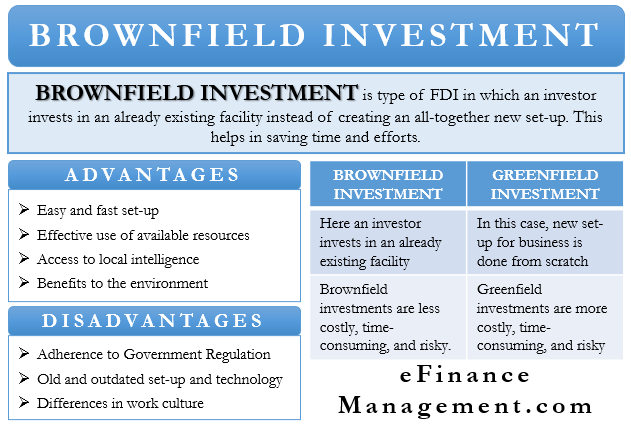 Limitations of Brownfield Investment
These investments have several limitations too.
Government Regulations
A Brownfield Investment is a type of FDI and may be controlled by a number of rules and regulations of the country where it is investing. Hence, despite having the set-up ready, the new business may have to again go through the chain of taking all the regulatory approvals in some cases. This can lead to a lot of wastage of time and monetary resources.
Old and Outdated Set-up and Technology
The set-up of the already existing unit may have become old and unsuitable for any business use ahead. It may also be improper and restrictive for expansion for the new investor. The machinery may be in obsolescence and not in sync with modern technology. Hence, the investor may have to face a lot of problems with adjustment in the new set-up. He may also have to go out of the line and make heavy unplanned capital expenditures on new plants and machinery.
Difference in Work Culture
An investor may find it difficult to adapt to the work culture of the country and the people where he is investing. A large number of workers may already be working in the existing setup. Differences in ideologies and work culture may lead to employee dissatisfaction, low morale, and attrition. Hence, it can prove to be a drain on the organization's resources and lead to a lot of inefficiency and mismanagement.
Difference between Brownfield Investment vs. Greenfield Investment
A Greenfield Investment is also a type of Foreign Direct Investment in which an investor- a Company or an individual sets up a business in another country as a subsidiary. In this case, the new set-up for business is totally from scratch, unlike in a Brownfield Investment. The construction of all the facilities such as factory premises, offices, stores, etc. is totally new.
An investor may choose a Greenfield investment over a Brownfield investment because of the flexibility in setting up facilities according to the needs of the project. The investor has total control over where his money is being spent. Also, the set-up will be new and fresh and hence shall be free from requirements of any major repairs and maintenance in the initial years. The company can also hire new employees as per its needs and requirement.
Greenfield investments are more costly, time-consuming, and risky as compared to Brownfield Investments. Therefore, an investor should first assess the pros and cons of both types of investments in detail as per his needs and then take the final decision to invest.
Conclusion
All said and done, both greenfield and brownfield are the types of investments. And these investments happen domestically as well as internationally. Greenfield Investment has complete flexibility but with lots of investment, time, and procedural requirements. At the same time, Brownfield investments give a quick start with comparatively lower investments. Moreover, by keeping the existing owner as a part of his team, the new investor owner gets an edge in the new territory in terms of experience, employee, environment, and trade practices.
As part of international expansion also the companies prefer to take over an existing operating unit to limit the risk and avoid the time loss in starting afresh. However, the target country's regulations sometimes allow FDI and fresh investments only when it is in a greenfield project. Hence, there is no option available in such a situation but to go for a greenfield project.
Thus, a thorough analysis of the facilities, incentives, quantum of investments, project execution time frame, etc should take place. And only after this the ultimate route for entering into a new country should be decided.
Quiz on Brownfield Investment
This quiz will help you to take a quick test of what you have read here.