What is an International Business?
An international business involves a cross-border flow of transactions for mutual economic and commercial benefit amongst its participants. An international business encompasses movement of capital, goods, services, intellectual or technical know-how as well as manpower across nations. Several types of international business are now coming to the forefront.
The advent of massive development in technology and communication has made the world a compact global village. No person or place on the planet is too far to reach. The gradual fading away of boundaries- physical, technological as well as regulatory has enabled many types of international business to flourish.
Types of International Business
Import-Export
Importing and exporting of goods is the simple practice of producing goods in one country for sale or consumption in another country. The country from where the goods originate (or are produced) is called the Exporting Country. While the country of destination (or purchase) for such goods is called the Importing country. The entities engaging in such trade are come to be known as Importers & Exporters. This is the most fundamental and straightforward form of business when discussing the types of international business.
Advantages
To Importer
An importer has access to a greater range of raw material and inputs thanks to the opening of cross-border trade. He can purchase high quality and low-cost goods from a country which specializes and is highly efficient in production. This aids him to drastically drive down the costs and enhance profits.
To Exporter
An exporter can create a greater market potential for his products by being able to reach customers beyond borders. The customers of an exporter are also such that they normally purchase in bulk quantities and will pay a significantly higher price when compared with a domestic buyer. The exporter is thus able to harness such amounts of profit that would not be possible by just selling in the home country.
Disadvantages
To Importer
While importing may greatly benefit an individual businessman, it has a grave impact on the economy. Importing causes a huge dent in the domestic markets of the importing country. Local players suffer greatly at the cost of multi-national corporations expanding worldwide. This inequality leads to a negative balance of payment (Export turnover – Import turnover) that impacts the currency exchange rates. Therefore, the government intervention in such businesses is very high. The importers are often subjected to high rates of duty and taxes to create an even playing field with the domestic players.
To Exporter
An exporter must be prepared for risks that accompany dealing with an overseas market. Lack of familiarity with the foreign language, consumer patters, market behaviors stands in the way of seamless business understanding. It is also difficult to retain control and ownership of markets in an overseas land. Competition may emerge from anywhere and it shall be difficult for the exporter to anticipate it. Moreover, the exporter must ensure compliance with the laws and regulations of both countries. This in itself is an arduous task.
Franchising
International franchising refers to the transfer of a right to carry on business under a particular name for the sale of specific goods or provision of services. An established brand name and a customer base are often perquisites for enabling a brand to turn into a franchise. The franchisor (owner of the brand) makes available to the franchisee, the brand name, trademarks, knowhow etc to produce specialized goods and services, operating models along with the complete business model. In return, the franchisor receives regular royalty payments subject to terms of understanding between both the parties.
Advantages
A franchise model is ideal for individuals who want to set up their own business but nor start from a scratch. Such a business provides huge leverage to the franchisee in terms of an established brand value and existing awareness amongst customers. The franchisees almost get a ready customer base reducing the risk of market capture. Also, the franchisers come with a ready-made operating catalog that covers every angle of business. The franchisee, therefore, does not have to worry about the nitty gritty of setting up a brand-new business.
Disadvantages
A franchise agreement remains binding for a period of time. Therefore, even if the business does not become profit-making, the franchisee will have to continue to run it at a loss during the life of the contract. Also, most franchise agreements are on a fixed royalty plus profit sharing basis. The franchisee, therefore, must part with a significant portion of his profits. Moreover, the terms of the agreement are very tight and prescriptive in nature. This leaves little room for the franchisee to innovate or add his own spin to the venture.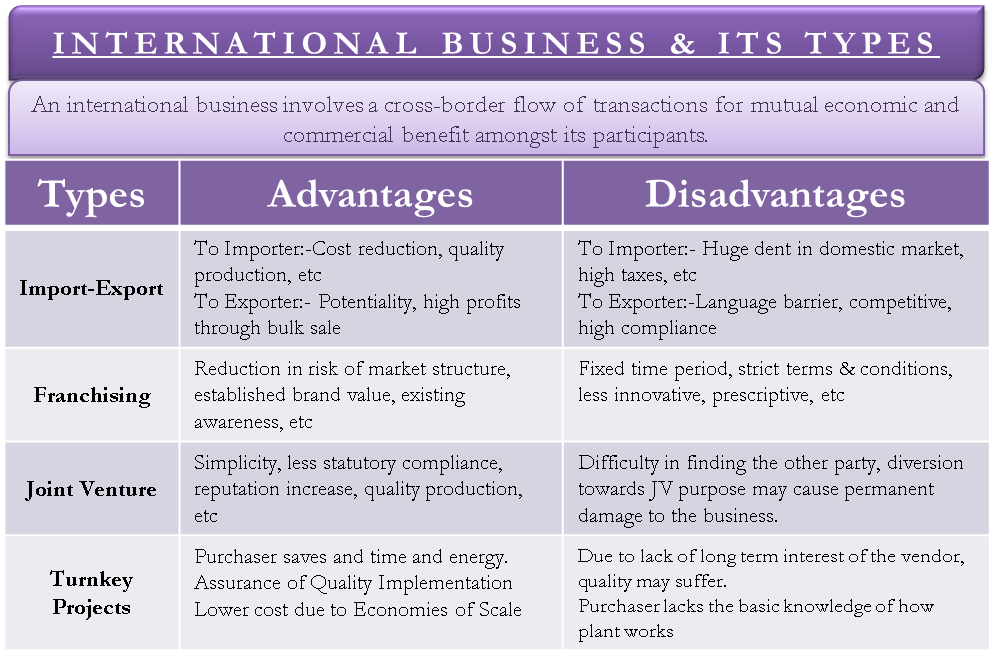 Joint Venture
A joint venture marks the strategic alliance of two or more companies situated in different countries. Amongst the various types of international business, an international joint venture offers the benefits of mergers while still allowing to retain control and ownership. An international joint venture is also a viable option for a business that seeks to expand into foreign territory and offload the entailing risk of unknown markets. Such joint ventures are normally entered into by companies where one sits in the country of operations or production and the other sits in the country where goods are primarily sold.
Advantages
Entering a joint venture means gaining a ready access to a foreign market. You can count on the reputation and brand of the partner to provide you with the necessary kickstart and leverage with a new customer base. Conversely, the other partner also reaps benefits such as production with advanced technology and lower cost of production. A joint venture also ensures simplicity in compliance with statutory regulations since each partner must look after the legal requirements of only his home country.
Disadvantages
It is difficult to identify companies that would provide the synergies and leverage one is looking for. A strategic joint venture is the one which perfectly aligns the strength and weaknesses of the parties involved to the benefit of both. Even if one does narrow down to an ideal partner for a JV, there still remains a question of getting on board the other party. Also, the joint ventures are high profit and short-lived form of business. This may cause the companies to shift their focus from the main business causing a permanent damage.
Turnkey Projects
A turnkey project is amongst the types of international business where a firm fully designs, constructs and equips a production or service facility. The project is handed over to the purchaser upon completion. The project is handed over in such a ready and up to date state that the purchaser just has to "turn the key" to bring the facility to ignition. Turnkey projects are generally carried out as an agreement between one business belonging to a developed country and the other to a developing country. The former brings to the table advanced production technology, know-how, and economies of scale. This enables a business in a developing country to thrive and prosper with little assistance from the first world countries.
Advantages
A design and construct project involves multiple contractors working on a single project. On the other hand, having a turnkey vendor on board means a single point of contact for the plethora of sub-contracts that go into the construction of a single contract. The purchaser is much more comfortable since he can handover the complete execution to the vendor. Moreover, the turnkey vendors are masters in their field. They provided the added benefit of lower costs due to economies of scale they experience.
Disadvantages
The turnkey vendor has no specific interest in the project apart from its completion. The vendor will not be present when the plant is operationalized on a day to day basis. Because of a lack of long-term interest, the vendor may be casual during the construction phase. This may cause him to overlook small slip-ups here and there. Also, since the project is handled by the vendor from start to finish, the purchaser is not made a part of the process. He will not have acquaintance with how his own plant works once the control is handed over to him. This may lead him to face several difficulties in the smooth running of operations post-handover.
References
https://en.wikipedia.org/wiki/Turnkey
http://www.globaltrademag.com/global-trade-daily/pros-cons-international-joint-ventures
Last updated on :
August 18th, 2018
** Disclaimer: This post may contain Affiliate Links marked as ** and we may earn a commission on sale.
What's your view on this? Share it in comments below.