Working capital is part of the total assets of the company. Generally, it is the difference between current assets and current liabilities. Practically speaking, it is the daily, weekly, and monthly cash requirement for the operations of a business. Therefore, working capital management is a process of managing short-term assets and liabilities. It makes sure that a firm has sufficient liquidity to run its operations smoothly.
The components and determinants of working capital are summarized in the table below.
The efficiency of working capital management can be measured through various methods and ratios. Financial analysts typically compare the working capital cycle and other working capital ratios against industry benchmarks or a company's peers. The most commonly used ratios and measures are the current ratios, days of sales outstanding, days of inventory outstanding, and days of payables outstanding.
Liquidity is often tight in small businesses. It's because of the reason that the scale of their operations and investment in WC is a drag on liquidity. The majority of small businesses cannot fund the operating cycle with account payables. And due to this, they have to rely on the cash generated internally. Or, in some cases, a cash injection is from their owner. Therefore, efficient working capital management will allow a business to run efficiently and potentially free up some cash. This could be used to pay down debt or invest in a profitable project.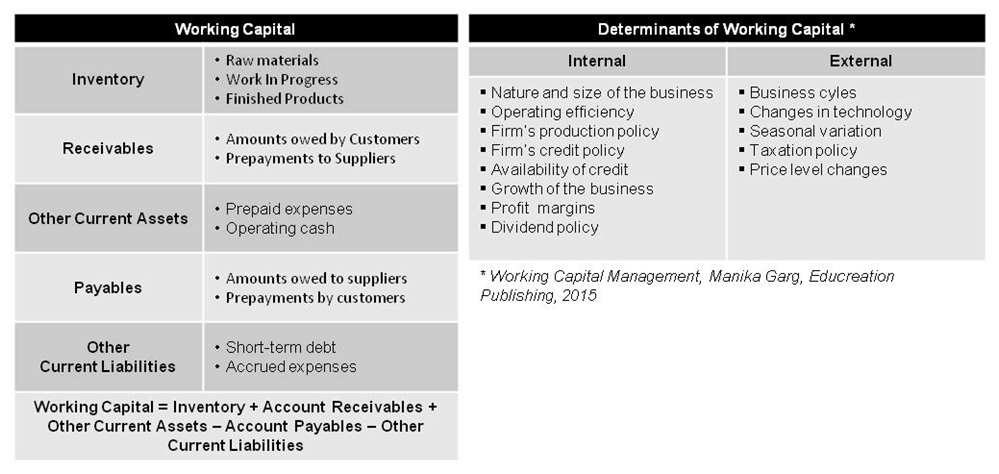 Importance of Working Capital
Working capital is a vital part of a business and can provide the following advantages to a business:
Higher Return on Capital
Firms with lower working capital will post a higher return on capital. Therefore, shareholders will benefit from a higher return for every dollar invested in the business.
Improved Credit Profile and Solvency
The ability to meet short-term obligations is a prerequisite to long-term solvency. And it is often a good indication of the counterparty's credit risk. Adequate working capital management will allow a business to pay on time its short-term obligations. This could include payment for the purchase of raw materials, payment of salaries, and other operating expenses.
Higher Profitability
According to research conducted by Tauringana and Adjapong Afrifa, the management of account payables and receivables is an important driver of small businesses' profitability.
Higher Liquidity
A large amount of cash can be tied up in working capital, so a company managing it efficiently could benefit from additional liquidity and be less dependent on external financing. This is especially important for smaller businesses as they typically have limited access to external funding sources. Also, small businesses often pay their bills in cash from earnings, so efficient working capital management will allow a business to allocate its resources better and improve its cash management.
Increased Business Value
Firms with more efficient working capital management will generate more free cash flows, which will result in higher business valuation and enterprise value.
Favorable Financing Conditions
A firm with a good relationship with its trade partners and paying its suppliers on time will benefit from favorable financing terms such as discount payments from its suppliers and banking partners.
Uninterrupted Production
A firm paying its suppliers on time will also benefit from a regular flow of raw materials, ensuring that the production remains uninterrupted and clients receive their goods on time.
Ability to Face Shocks and Peak Demand
Efficient working capital management will help a firm survive a crisis or ramp up production in case of an unexpectedly large order.
Competitive Advantage
Firms with an efficient supply chain will often be able to sell their products at a discount versus similar firms with inefficient sourcing.
Continue reading – Advantages and Disadvantages of Working Capital Management