Drawing Power generally addressed as "DP" is an important concept for Cash Credit (CC) facility availed from banks and financial institutions. Drawing power is the limit up to which a firm or company can withdraw from the working capital limit sanctioned. Updating drawing power for working capital by the bank is an important credit monitoring exercise.
Understanding Drawing Power
Drawing Power is calculated after deducting margin from "Stock Less Creditors + Book Debts" for the month. Banks have a practice of updating drawing power based on monthly/quarterly closing stock-book debt and trade creditors' statement submitted by the firm/company. In order to understand this better, we need to have a better understanding of what is "margin" and how DP is calculated.
An important point to note is that "Stock" considered for calculating DP should be insured stock. Stock not covered under insurance, if considered for drawing power does not reflect the true drawing power since bank runs a huge risk, in the case of any mishappening.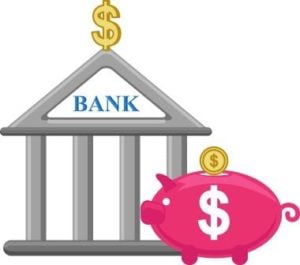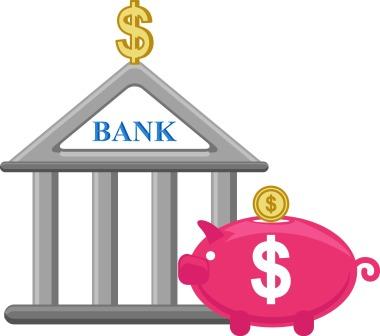 Drawing power is generally a post-sanction credit monitoring tool. After sanction of limits, it helps the bank in keeping a tab on the performance of the firm or company to whom the limits are sanctioned. If the debtors become sticky at any point in time, or if the paid stock shows decreasing trend constantly month on month, it is an alarm bell for the bank.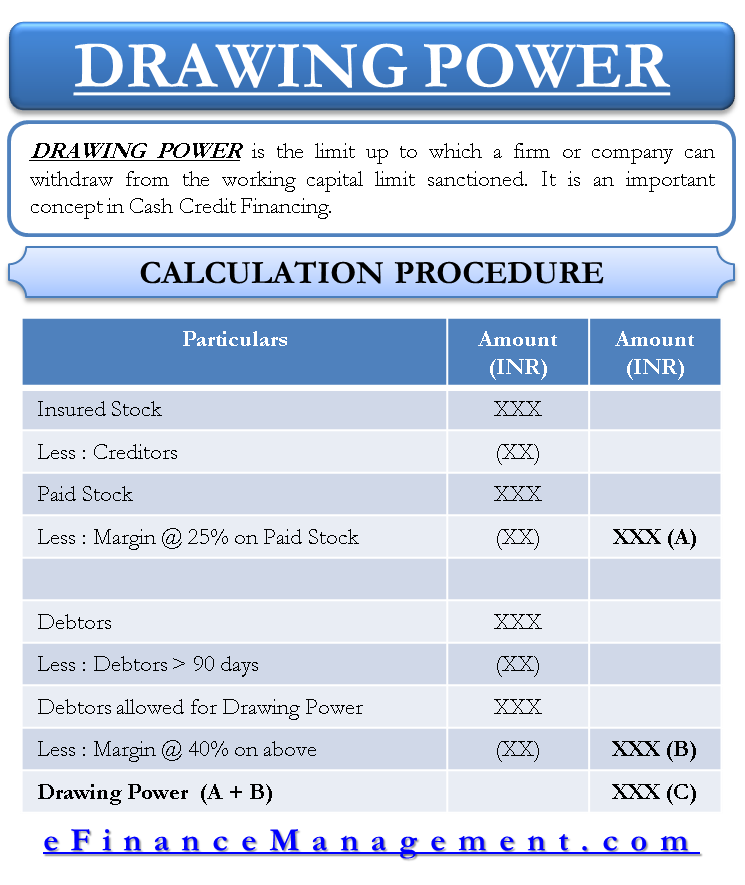 Calculation of Drawing Power
While opening a CC account, DP has arrived basis the stock, book debts and creditors statement based on the closing position of the earlier month. The customer (Firm or the company availing working capital limits from the bank) can utilize these limits for a month i.e. till the time the new statement is prepared for the consequent month-end position.
It is calculated by considering the total value of paid stock (Paid stock=Stock fewer Creditors) plus book debts (not more than 90 days old) and deducting margin from the same. In most of the cases, debtors up to 90 days are considered for calculating DP. But, if the business has a longer credit cycle, more than 90 days debtors might be considered for DP calculation. This is to be done if it is clearly mentioned as part of sanction terms.
The margin is the fund brought in the business by the firm/company itself from long-term sources of finance. In most of the cases, a margin on stock and book debts is 25%, while some banks consider 25% margin for stock and 40% of net debtors (Debtors fewer creditors) since the stock is a more liquid current asset. How much margin is considered is already mentioned as terms of sanction in the "sanction letter" and may vary from bank to bank. Depending upon aggression of bank in lending, the margin is kept. Banks who are more aggressive keep less margin and vice versa. In addition, industry to industry, the margin will vary depending upon operating / working capital cycle.
Example of Calculating Drawing Power
If the details are as below:
| As on 31.10.2018 | $ Mio |
| --- | --- |
| Stock | 50 |
| Creditors | 12 |
| Total Debtors | 70 |
| Debtors > 90 Days | 10 |
| Stock Covered Under Insurance | 44 |
| Margin on Stock | 0.25 |
| Margin on Debtors | 0.4 |
| Sanctioned Working Capital Limit | 70 |
Drawing Power Calculation
METHOD-I
| Particulars | INR Mio | Allowed for DP Calculation |
| --- | --- | --- |
| Stock (Insured Stock) | 44 | |
| Less: Creditors | 12 | |
| Paid Stock | 32 | |
| Less: 25% Margin | 8 | 24 |
| | | |
| Debtors | 70 | |
| Less: Debtors > 90 Days | 10 | |
| Debtors allowed for DP | 60 | |
| Less: 40% Margin | 24 | 36 |
| Drawing Power | | 60 |
Working Capital limit is worked out prior to sanction. Working capital limits are primarily secured against the stock and book debts of the firm or company. It is to be noted that even if the drawing power for some month works out to be more than the sanctioned limit, the maximum withdrawal limit is "Sanctioned Amount". That means a customer can utilize maximum amount as the limit sanctioned, even if the drawing power arrived is more for a particular month closing. In the above limit, if the sanctioned limit was "$ 50 Mio", then DP would be restricted to "$ 50 Mio" only.
Share Knowledge if you liked