Internal Startups: Meaning
Startups are new organizations that create and launch a novel and innovative product or service in the markets. Since their offering is totally new and untested, they work under a lot of uncertainty. The processes, budgets, and the requirement of resources are ambiguous as there is no clarity or experience of the same. Most of these start-ups come up with something new and unique product or concept that is not available in the market in the same form. Internal startups are startups that are set up by already established and reputed bigger companies. They are a form of a new division or semi-independent unit of the business that tries to innovate, make and launch something new in the market. They work internally and very closely with the company that sets them.
Internal startups tend to give a push and acceleration to creativity and innovation.
They tend to reduce red-tapism and lethargy, which engulfs the employees in a large corporate set-up. People usually find it very difficult to explore ideas for the introduction of new offerings in big established organizations. Internal startups provide a platform for the same.
Employees do not have to bind themselves with the processes and work culture of the parent concern. They can try new things on their own without bothering about the old ways and methods of work and the complex organizational structures in place.
Also, such startups aim to cut costs and time involved in creating and launching a new product or a service.
They promote creativity and innovation.
Companies find it easy to control and monitor such divisions of the business. They can easily identify if they are producing the results as per the expectations or not. And can take corrective actions accordingly, if required.
Advantages of Internal Startups over Regular Startups
Availability of Resources
Often startups face the problem of a shortage of funds because they have limited availability. Also, they may face a shortage of other resources such as labor time and again.
One of the key advantages of an internal startup is that it has abundant resources at its disposal. The parent company takes care of its need for funding as well as other resources like labor, land, and other resources such as IT systems, etc. The management does not need to worry about these resources. They can focus on the more important issues at hand and ensure that the new venture works efficiently and successfully.
Skilled Management and Manpower
Any startup requires hiring an appropriate mix of skilled, semi-skilled, and unskilled manpower as per its requirements at the time of its inception. This is a long-drawn exercise, costly as well as time-consuming. We often come across a situation where one wrong hiring can prove costly to a new start-up. It may take years before the founders are able to find and form a good team of people for its operations.
Internal startups usually do not go through this problem. They can hugely benefit from the expertise of skilled management of the existing company. They save a lot of precious time and money on hiring and training the right people for the right job. The parent company can provide the internal startup with the existing employees who are fit for the required role. They can immediately rise to the occasion and start working towards the goal of the startup. They have the appropriate experience in handling business and know how to come out of tough situations.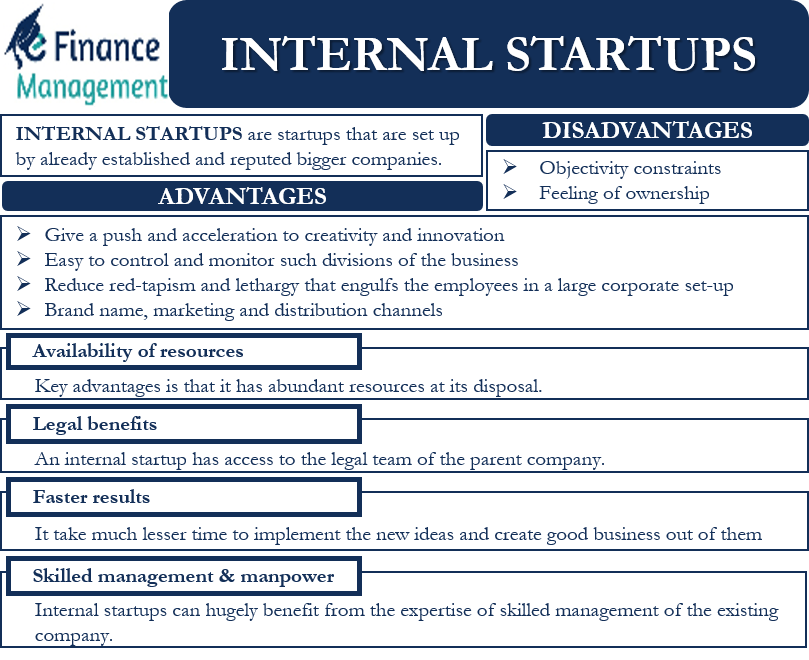 Brand Name, Marketing and Distribution Channels
A regular startup takes several years before it gets recognized as a reliable brand. Also, they have to spend millions on marketing and promotion in order to effectively reach their potential customers and create a market for their products and services.
Whereas an internal startup can instantly benefit from the set brand name of its parent company. Customers easily try and accept products and services that come from an already existing reputed brand. Also, they need not spend huge sums of money on marketing and promotion. A little bit of marketing and passing of information about the product and its features to the prospective customers will do the job for them. They can also use the already existing social media channels of the parent company for this purpose. They can immensely benefit from the existing followers of these channels. Finally, they can use the already existing distribution network of the parent company and benefit from it.
Legal Benefits
An internal startup has access to the legal team of the parent company. They already have the skills, expertise, and know-how of the various legal complexities the new business might face. They also know how to handle lawsuits and litigations. On the other hand, a regular startup will have to set up a legal team afresh, which will take a lot of time and money. Also, the founders may not have the required knowledge of how to go about such complex legal situations, which can cause losses to the company.
Faster Results
Internal startups take much lesser time to implement the new ideas and create good business out of them. This is so because of all the above factors mentioned above. Hence, they are able to generate good sales and profits right from the start. However, a regular startup may take a lot of time to create a market, drive sales and make a profit out of its operations.
Also, the idea of internal startups is to get the result of success or failure quickly. The cost of failure is much lesser as compared to regular startups. The parent company can use the infrastructure, manpower, and other resources of the internal startup even if it fails.
Disadvantages of Internal Startups over Regular Startups
Objectivity Constraints
The activities of an internal startup can suffer from constraints of the objectives, mindset, and vision of the parent company. The employees may work according to the already set stale methods and processes. This may act as a hindrance to the activities of the new startup. They may not function freely. The management may fail to achieve the results and objectives for which the startup was specially created. The direct and indirect influence of parent company culture, hierarchy, same workforce, etc., all that, to a large extent, influence the working of the new internal start-up and prove a mental block for unhindered planning and execution.
Feeling of Ownership
The management and employees of the internal startup may not feel the same sense of ownership and responsibility as in the case of a regular startup. This is so because they may feel they are a part of the parent company first. They may not pursue and focus on the success of the new idea with the same zeal as in the case of founders of a regular startup. This definitely negatively impacts the policies, processes, and euphoria on the working and success of the start-up.
Conclusion: Internal Startups
It is not necessary that all internal startups will be successful 100%. They also face failures and closures. But as discussed above, their cost of failure is much lesser than that of a regular startup. Also, the decision to shelve it in case of unfavorable results is faster and less painful from all angles. There are a few things, if followed, that can work in favor of their success. They should incorporate an operating model that is different from their parent company. Also, the model and processes should be in line with the overall corporate strategy and vision. The new management should have the skills to operate the unit as a separate small company. They should be capable enough to take risks and handle their pressure since any new idea will come with a fair amount of risk.
This corporate restructuring model is very useful for huge multinational corporations as it gives a push to innovation and creativity, which is usually restricted or very limited in the usual course of business. Internal startups can be a big blessing for such corporations if they are able to hire the right people with startup mentalities, especially with the availability of ample resources and experience of the parent company.
Frequently Asked Questions (FAQs)
What are internal startups?
Startups that are set up by already established and reputed bigger companies are termed internal startups.
What are the advantages of an internal startup in comparison to a regular startup?
– It has abundant resources at its disposal
– Benefit of the expertise of skilled management of the existing company
– An internal startup can take the benefit from the set brand name of its parent company
– Has access to the legal team of the parent company
– Take much lesser time to implement the new ideas and create good business out of them