An accredited investor is an individual person or an institutional investor. These accredited investors have special privileges and rights which allow them to invest in financial securities that are not usually available to the general public. They get to invest or trade in securities that are not available to general investors. Or in securities that are not registered with any financial watchdog.
Usually, such investors are HNIs (high-net-worth individuals), insurance companies, trusts (assets more than $5 million), and investment banks. Such investors usually place their money in venture capital, private placements, private equity, hedge funds, and equity crowdfunding.
In the U.S., all the securities are registered with the SEC before making them available to the public. A few securities that the issuer intends to sell to an accredited investor get an exemption from the SEC.
The objective of the issuer may be to save on costs. This is because registering security with the SEC is a costly procedure. Thus, the exemption from the SEC allows the issuer to save a lot of money. However, because of the high risk with such private transactions, the SEC has laid down requirements to ensure that investors have the experience and funds to handle such investments.
Requirements for Accredited Investor
A point to note is that there is no such certification for an accredited investor. Instead, the firms offering securities to such investors need to verify their credentials. This means that such investors need to share their financial statements, such as tax returns, bank statements, and more, to allow other parties to verify their net worth and income.
The regulatory requirements to qualify as accredited investors vary from country to country. In the present article, we will center our discussion towards the regulatory requirements of the U.S. In the U.S., an investor gets privileges only after they meet the requirements set by the SEC (Securities and Exchange Commission). The rules for an accredited investor are prescribed and defined under the Securities Act of 1933, which was primarily enacted to deal with the issues that cropped up from the Great Depression. The exact rules are under SEC Rule 501 under Regulation D.
These requirements include net worth, income, experience, and more. The objective of certifying such investors is to ensure that they have the experience to invest in potentially riskier securities and weather losses.
As per the SEC, an accredited investor is one who meets one of the below two requirements:
Annual Income
The accredited investor's income in the last two years should be at least over $ 2,00,000 at the individual level or must be over $300,000. Also, the investor should reasonably expect similar earnings income in the ongoing year as well.
Net Worth
The net worth of the person, either individually or with a spouse, should be more than $1 million. This number, however, must exclude the primary residence. Before the approval of the Dodd-Frank Act, the primary residence was part of the calculation for determining an individual's net worth. A person or an executive working with the issuer of unregistered securities may also be an accredited investor.
Entity Net Worth
For an entity, the requirement is assets worth $5 million or more. Also, an entity that owns accredited investors may be considered accredited. However, if the creation of an enterprise is only for investing in unregistered securities, then it may not get accredited status.
Also, if an individual can prove that they have the knowledge and experience to deal with such securities, they may qualify as well.
In August this year, the SEC updated the requirements to allow more people to qualify as accredited investors. These new rules will come into effect sometime later this year. With these changes, there will be new categories of accredited investors. And these investors will qualify to be so irrespective of their wealth status. They are included considering that these professionals and employees have a requisite understanding of the market and these securities. As per the new rule, employees of a private fund can qualify as accredited investors. Moreover, persons who are working in financial institutions having financial Securities licenses belonging to Series 7, Series 65, and Series 82 will also qualify as an accredited investors. One big change is allowing "spousal equivalent," like a live-in partner, to include for determining the total income.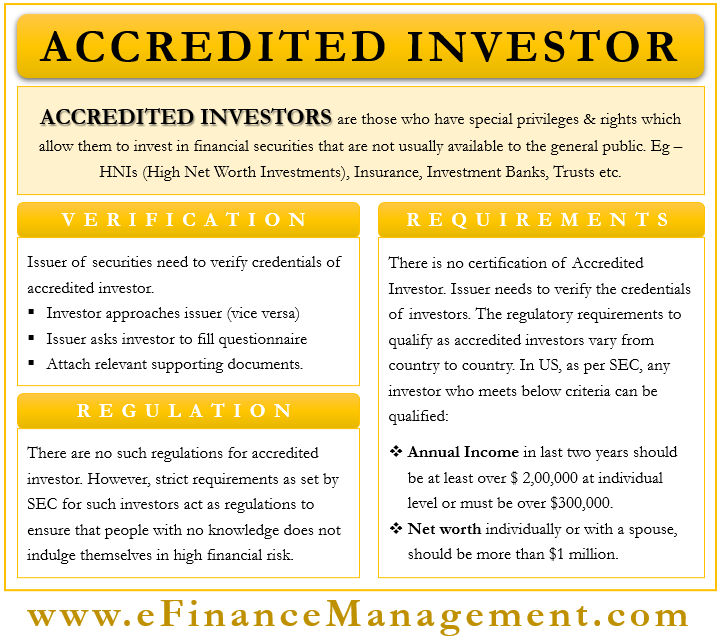 Example
For a better understanding of the requirements, let us explain this with an example. Suppose investor A has an income of $140,000 for the last two years. The value of his assets are as follows – primary house $1 million, car $100,000 (loan of $40,000), 401(k) account $500,000 and savings account $450,000.
If we look at the income, then A fails to qualify. However, if we analyze the net worth of A, he seems to qualify on the net worth criteria. His net worth (Assets less Liabilities) is ($100,000 + $500,000 + $450,000 – $40,000) $10,10000. The value of the one primary house needs to be ignored to determine whether or not an investor qualifies.
Verification Process for Accredited Investor
As said above, it is the issuer of securities that needs to verify the credentials of the accredited investor. However, there is no formal process to determine whether or not an investor meets the requirements or qualifies to be an accredited investor. But, in 2013, the SEC did come up with a few steps that the issuer needs to take to verify the investor.
This process starts when an investor approaches an issuer or an issuer contact an investor to invest in their unregistered securities. The issuer then needs to ask the investor to fill out a questionnaire, where the investor needs to fill out their financial details, such as net worth, income, and more. Additionally, the investor needs to attach relevant documents to back their financial details. These documents could be tax returns, bank statements, and more. Some issuers may also ask for extra details, such as credit reports and letters of review.
Regulation of Accredited Investor
There are no such regulations for an accredited investor. However, the strict requirements as set by the SEC for such investors act as regulations. These requirements ensure that people having no knowledge of financial securities and investments do not subject themselves to such a high risk. Also, these requirements ensure that investors are financially stable to absorb the level of losses that such investments usually carry.
In a way, we can say that the objective of these requirements is to protect investors and not the issuer of securities. These rules do not limit the trade of risky securities. Instead, they ensure that only financially stable and expert investors get access to such securities. Moreover, the general public, not having adequate knowledge, does not lose their investments at the hands of the private security issuers.
Final Words
An accredited investor gets the opportunity to invest in securities not available to general investors and earn a high return. However, they assume a high risk as well by investing in these securities not regulated by the SEC. But, the requirements set by the SEC for an accredited investor ensure that the investor is capable of undertaking and understanding the quantum of such risk.