Budgeting in Project Management
The process of creating plans to spend and use money in an organization makes up budgeting. Budgeting helps determine the spread of money available for project consumption. Thus avoiding over-utilization and allowing balancing efficiency and effective workflow. Execution of budgeting in project management is essential. The project manager holds responsibility for the streamlined working of the project. This ensures that project efficiency, standards, time, and quality are not overlooked.
Under project management, three important factors play a role in success. These are:
1. Budget.
2. Time.
3. Quality.
This article focuses on the importance of the first factor, budget.
Project Budget
A good Project Budget sustains itself as a tool to estimate project costs. All costs that are likely to incur in a project can highlight in the planning stage. A good project budget would include the following cost planning:
1. Labour costs.
2. Material costs.
3. Operating costs.
It is important to note that budgeting in project management is a strong tool. Budgeting can assist in the right and appropriate allocation of costs. Thereby focusing on the efficacy of activities in a particular project. The following factors usually affect the planning of a Project Budget:
1. Estimated changes in the scope of the project.
2. Better and more realistic forecasted cost budget.
3. Insufficient funds for an ongoing project.
Read more about Project Budget
Types of Budgets in Project Management
Project budget helps implement money, costs, and resources for the project. Approval of the budget helps forecast operations that might not be adequate. Any changes made in correspondence to the planned budget are so during the project.
A well-devised Project Budget helps put in place the earned-value analysis during the work process cycle of a project, thereby placing the project under control. The project budget is divided into sub-goals, making the decision-making process much easier.
Project Budgets can be of two main kinds:
1. Resource Budget (matters concerning cost allocation for internal resources);
2. Financial Budget (matters concerning cash flow, payments, and external resources).
Costing and Planning
In every Project Management process, the budgeting process involves requiring a cost estimate. This is an approximate prediction of how much money is needed to complete a project as it helps with the assessment of project feasibility.
It is thereby to be noted that accurate cost estimation helps with better management of the project budget. Estimation of costs is usually done for the following:
1. Materials;
2. Equipment;
3. Services;
4. Software;
5. Facilities;
6. Personnel.
Costs are bifurcated into direct and indirect costs:
Direct costs are those that you can allocate directly to the core business activity, such as administrative salaries, materials, supplies, equipment, travel costs, etc.
Indirect costs are those which are allied and supportive. Such can include office space rent or general and administrative costs.
Planning a budget involves knowing industry-accepted techniques to estimate costs. Listed below are the most common ones:
1. Analogous estimation: Existing or similar projects which have been completed are researched to determine costs for new projects. This technique is comparative.
2. Resource cost estimating: Creating a tabulation of all the resources needed for the project and thereby creating a budget.
3. Bottom-up estimating: Calculating estimates based on individual tasks and project activities. This provides a detailed outlook of estimation in terms of the project, part by part.
4. Expert judgment: Industry experts, seniors, and subject advisors are hired to provide insight into past projects and market foray information. Multiple experts and diligent opinions help in better planning of a strong budget.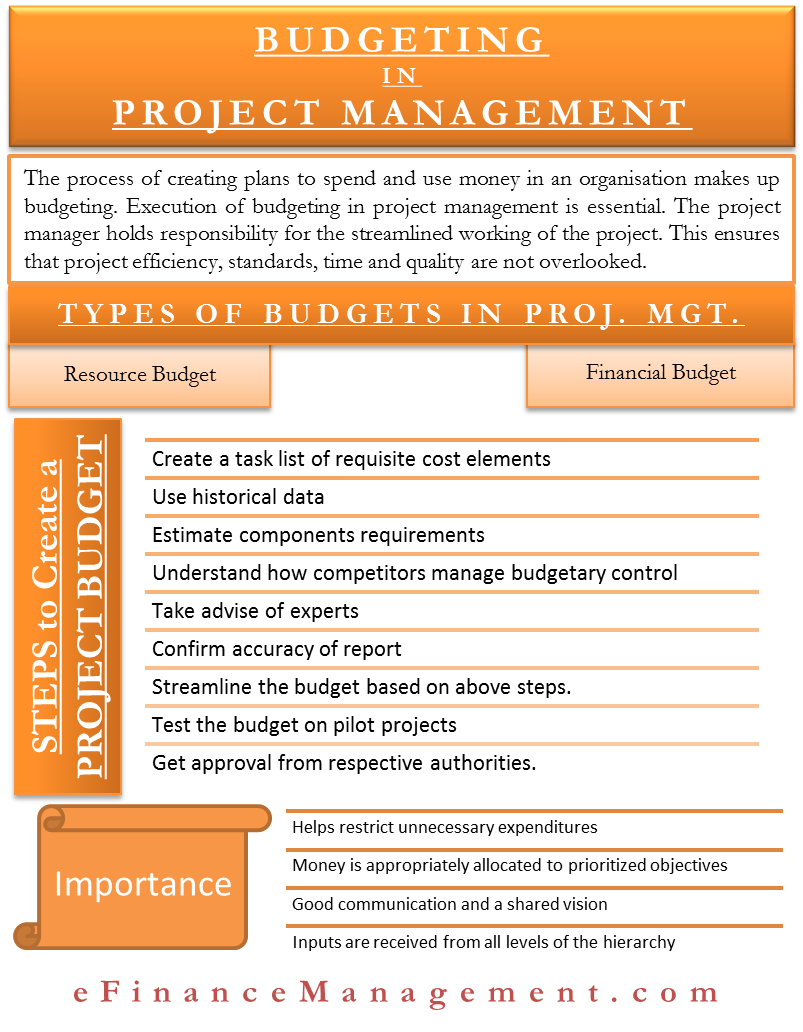 Steps to Create a Project Budget
It is of utmost necessity to know how to plan, devise, create and then finally, manage a Project Budget.
Here is a set of steps to help with the same:
1. Create a task list to focus on requisite cost elements for the project.
2. Use historical data to research similar projects and the costing involved.
3. Estimate components based on project requirements, market research, and find cost-effective and efficient alternatives.
4. Use market references to understand how competitors and seasoned companies manage budgetary control of their projects.
5. Take the advice of experts to curb doubts and obtain opinions to improve decision-making.
6. Confirm accuracy of report with internal research and discussion with respective departmental heads.
7. Streamline the budget based on research and planning done in the above steps.
8. Test the budget on pilot projects for sample usage to understand efficiency and practicality.
9. Get approval from respective authorities.
Importance of Budgeting in Project Management
Budgeting helps measurement of performance against expenditure. In a business, it ensures that resources are fully available for the workflow to support business growth and smooth functioning. Budgeting makes sure the availability of capital is set straight and provides estimates for expenditure and revenue. The business can focus on making the project reach successful completion with good returns on investment.
To sum up the importance of budgeting, we can lay down the following points:
1. Budgeting helps restrict unnecessary expenditure to balance revenue against cash flow.
2. With budgeting, it is ensured that money is appropriately allocated to the prioritized objectives of the project at hand.
3. A properly drafted budget plan ensures that all levels of management are aware of how the project should be conducted. This ensures good communication and a shared vision.
4. Sharing budget forecasts with all members of the project can ensure that inputs are received from all levels of the hierarchy.
Conclusion
Having a budget allows you to limit the number of options available to a company or its project manager from unnecessary planning, ensuring that a project is completed on time before the available funds run out. The budget allows the project manager to know how expandable limits.
Once a budget is in place, the project manager can determine the money spent on each component of the project. A budget allows those in charge of purchasing to determine the percentage of funds that they can divide into elements of the project. This provides the opportunity to determine whether or not the project can be completed within the available budget.
Budgeting in priority helps prioritize the different parts of the project. It allows the prioritization of those parts of the project that need to be completed initially while putting other parts on hold.