Value Added Statement is a financial statement that depicts wealth created by an organization and how is that wealth distributed among various stakeholders. The various stakeholders comprise of the employees, shareholders, government, creditors and the wealth that is retained in the business.
As per the concept of Enterprise Theory, profit is calculated for various stakeholders by an organization. Value Added is this profit generated by the collective efforts of management, employees, capital and the utilization of its capacity that is distributed amongst its various stakeholders.
Consider a manufacturing firm. A typical firm would buy raw materials from the market. Process the raw materials and assemble them to produce the finished goods. The finished goods are then sold in the market. The additional work that the firm does to the raw materials in order for it to be sold in the market is the value added by that firm. Value added can also be defined as the difference between the value that the customers are willing to pay for the finished goods and the cost of materials.
Example of Value Added Statement
Following is the format of the statement of Value Added explained with an example.
| | |
| --- | --- |
| Sales Revenue | 1000 |
| Less: Cost of bought in goods and services | 200 |
| Value Added | 800 |
| Application of Value Added | |
| Employee Benefits | 250 |
| To capital providers (Creditors and Lenders) | 100 |
| Taxes | 100 |
| Value retained (depreciation and expansion of business) | 350 |
| Value Added | 800 |
From the above illustration, the difference between sales and cost of bought-in materials and services gives the value added by the organization. The second part the statement gives the distribution of the value added by the organization. Off the $800 added by the firm, $250 is utilized for employee benefits. $100 is given as interest of loans and dividends to shareholders. Another $100 is contributed to the government in the form of taxes. Whereas, $350 is retained for expansion of the current business and part of it is kept aside for depreciation amount. Thus, value added statement not only gives the value added by the organization but also the distribution of it across various stakeholders.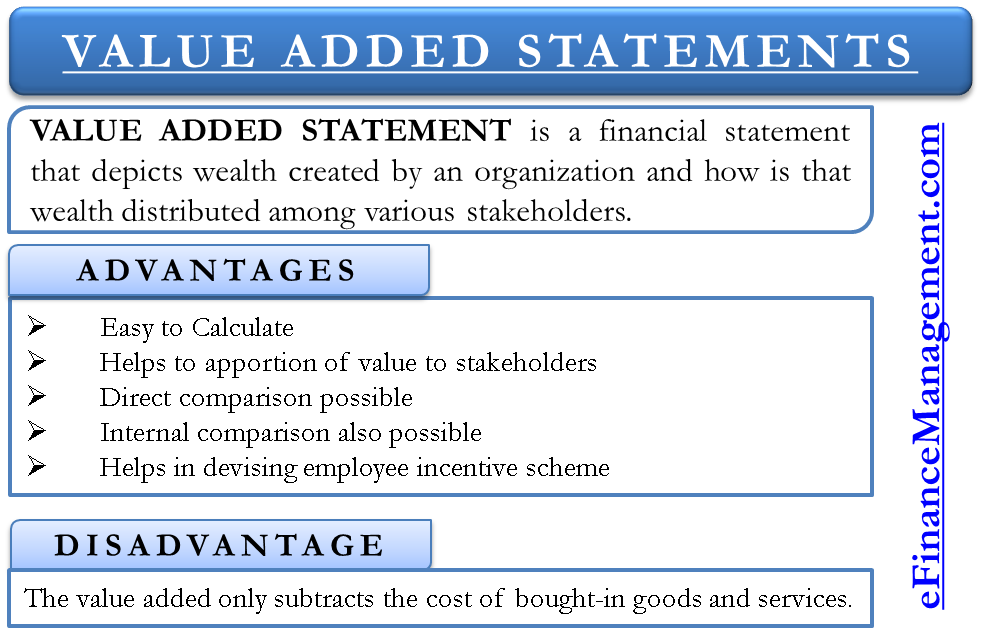 Advantages of a Value Added Statement
It is easy to calculate.
Helps a company to apportion the value to various stakeholders. The company can use this to analyze what proportion of value added is allocated to which stakeholder.
Useful for doing a direct comparison with your competitors.
Useful for internal comparison purposes and to devise employee incentive schemes.
Difference between Value Added and Profit
Profit subtracts all the cost incurred in the process of generating revenues. The value added, on the other hand only subtracts the cost of bought-in goods and services. Profits are meant for shareholders whereas value added is meant for stakeholders who include shareholders also. Therefore, value added is a wider term.
Last updated on :
March 23rd, 2019
What's your view on this? Share it in comments below.