What is Equity Research?
Equity research refers to an area of finance that involves analyzing equities (i.e., stocks) to determine whether they are a good buy or not. People skilled in performing equity research are called equity research analysts.
Why Equity Research? – The Purpose
The main purpose of equity research is to provide insights into a company's financial performance and highlight the potential risks posed to its investors. It enables investors to make informed decisions before entering into an agreement for buying a stock or bond. An equity report examines the strengths and weaknesses of a firm using its financial data. And presents them to the investors in a detailed manner and a detailed analysis. However, equity research only provides advice on the best stocks to invest in and is not mandatory for investors to follow the same.
Who Requires Equity Research?
Firms involved in investment activities require equity research. Examples are insurance companies, pension fund companies, asset management firms, etc. All the above equity research firms invest heavily in equity markets with an aim to receive good returns for their clients. Hence, it is very important for them to conduct an in-depth analysis of a particular stock or a sector before putting their client's money into it. They completely or partially depend on the reports or suggestions generated by equity research analysts to make informed decisions. Therefore, these firms either have a dedicated equity research team in their organization or outsource this work to an independent research firm.
Types of Investment Firms – Buy Side & Sell Side
An equity research analyst typically works for two types of investment firms: Buy-side and Sell-side. Analysts working for companies on the buy-side are buy-side analysts, and people working for sell-side firms are sell-side analysts.
Though the work done by the analysts for both buy-side and sell-side is almost the same, the difference lies in how the research materials are used. Analysts working for the buy-side are the clients for the sell-side analysts, i.e., all the research material prepared by sell-side analysts is catered to the people on the buy-side. They are available publicly and can be accessed by all the investors. Analysts on the buy-side use research material developed by the sell-side and their own research to buy or sell securities.
Let us examine the differences between buy-side and sell-side
| | |
| --- | --- |
| Buy-side | Sell-side |
| These companies are the ones who have money and buy securities | These companies help buy-side companies take buy/sell decision |
| Examples include hedge funds, pension funds, asset management firms, etc., | Examples include investment banks, brokerages, advisories, etc. |
| A major part of their work is selecting which companies to buy or sell | A major part of their work is to prepare in-depth research material to convince buy-side people to make a decision |
Scope of Equity Research
The main aim of this research is to analyze the market trend. And observe how it is affecting companies' earnings and their stock value. It focuses on a particular stock or a sector as a whole and captures all the information of the stock (or companies in a sector). It includes a review of its historical financial performance, a forecast of its future financial performance, supporting arguments for the estimates, and finally, a recommendation on whether to buy or sell the stock. Sell-side firms usually produce such detailed reports.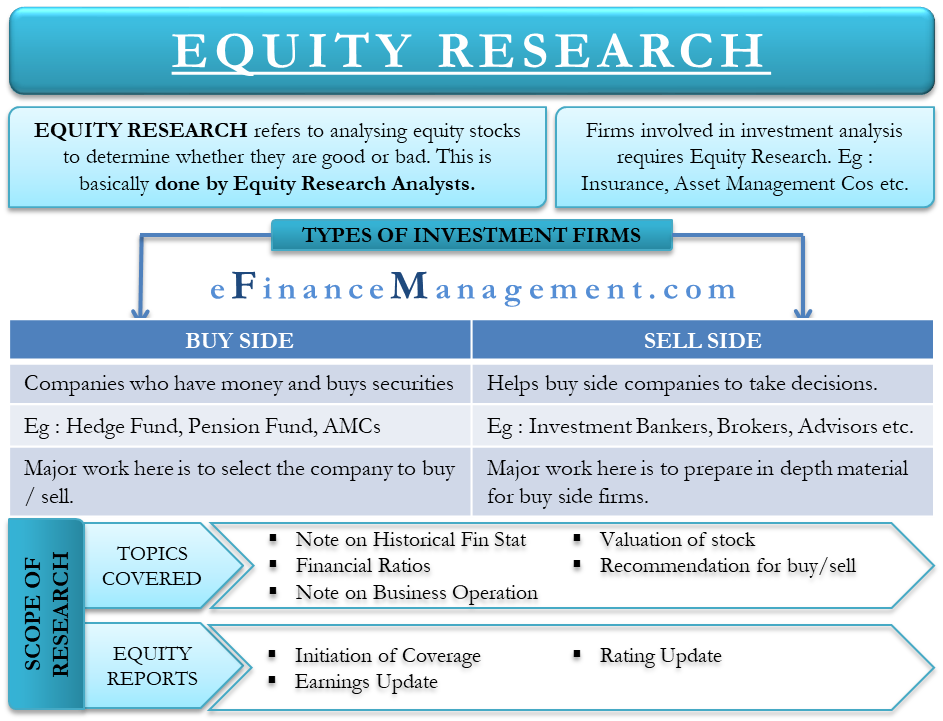 Topics Covered
Broadly, topics covered in an equity research report are:
A note on the historical financial performance of a company analyzed using various financial ratios
The detailed description of how the analyst forecasts its financials would be in the near future and what are the resultant earnings values
A brief note on the business operations of the company and the trends of the sector it is in
Valuation – the value of the stock according to the analyst (using DCF or peer valuation techniques)
Recommendation for buy or sell, supported by arguments
Kinds of Equity Reports
Different kinds of equity reports developed by leading investment banks are –
Initiation of Coverage
In this report, the analyst recommends the stock for the first time.
Earnings Update
This report includes incorporating the changes in initiation reports to include the latest earnings.
Rating Update
To change the recommendation on the stock for any macro or microeconomic changes that happened recently.
Skills Required in an Equity Research Analyst
The list of work done by equity research analysts is 'fundamental analysis.' It includes a detailed analysis of financial statements, financial modeling, analyzing various ratios, valuation, forecasting financials, preparing earnings estimates, and drafting detailed reports on the particular company. Hence, an equity analyst job requires to possess the following skills to excel in his career.
Technical Skills
Good understanding of financial concepts, excellent analytical skills required to analyze financial statements, financial modeling, good report writing skills, proficiency in different types of ratios, and hands-on experience in M.S. Excel.
Non-technical Skills
Attention to detail, good communication skills, ability to present the analysis succinctly, ability to prioritize tasks effectively, and a flair for updating self for any changes in the economy.
Also, read Equity Research Vs. Credit Research