Who is an Equity Research Analyst?
An equity research analyst is a professional who conducts equity research. His role is to analyze and study the financial performance of companies and their industry trends. He also predicts the future performance of the stocks on his radar using a few assumptions and writes detailed, unbiased reports on them. He also gives insights into how a stock has performed historically and how it will perform in the near future. The ultimate goal of an equity research analyst is to provide suggestions to investors on whether to buy or sell a stock and at what price. He helps investors to assess the risk of security and make informed decisions.
Work of an Equity Research Analyst
A typical workday of an equity research analyst includes analyzing the financial reports of a company (Income Statement, Balance Sheet, and Cash Flow Statement) in detail. He also does an in-depth review of the capital structure and projects the future earnings of a company. An equity research analyst is supposed to track the latest news about the stocks in his portfolio, track the current market trends, and follow all the updates in the industry he is specialized in. He also allocates a significant portion of the day to write exhaustive research reports on the findings. An equity research analyst is specialized in making presentations to his client and explaining his investment strategies.
Types of Equity Research Analyst
Depending on the type of firm that he works in, we call an equity research analyst either a buy-side analyst or a sell-side analyst. The work done by buy-side and sell-side analysts is more or less the same, and often an analyst will be capable of working for both sides.
Buy-Side Equity Research Analyst
A buy-side analyst is a person who works for buy-side firms. For example, insurance firms, asset management companies, pension funds, venture capital firms, mutual funds, etc. These companies have money with them and are interested to invest in various securities in order to earn better returns. Hence, they have a dedicated team in place who would provide them with suggestions on suitable stocks to invest in. The research work done by these analysts is for a particular fund or exclusively for the company they work in. Hence, these research materials are not available in public. Buy-side analysts rely on the research work done by sell-side analysts and use it in their own work before providing investment suggestions.
Sell-Side Equity Research Analyst
Equity analysts who work in sell-side firms are sell-side analysts. For instance, such firms include investment banks, advisories, brokerages, etc. These people facilitate the buying and selling of securities in a financial market. They help companies to raise capital by selling their stocks or bonds to investors. The work of equity research analysts working for sell-side firms includes analyzing a company's financial statements and providing their views and opinions on it. Their work is mainly catered to buy-side firms, institutional and other investors. They also draft detailed research reports on the findings, which are publicly available and can be accessed by buy-side firms and other investors. They also give investment recommendations for the stocks.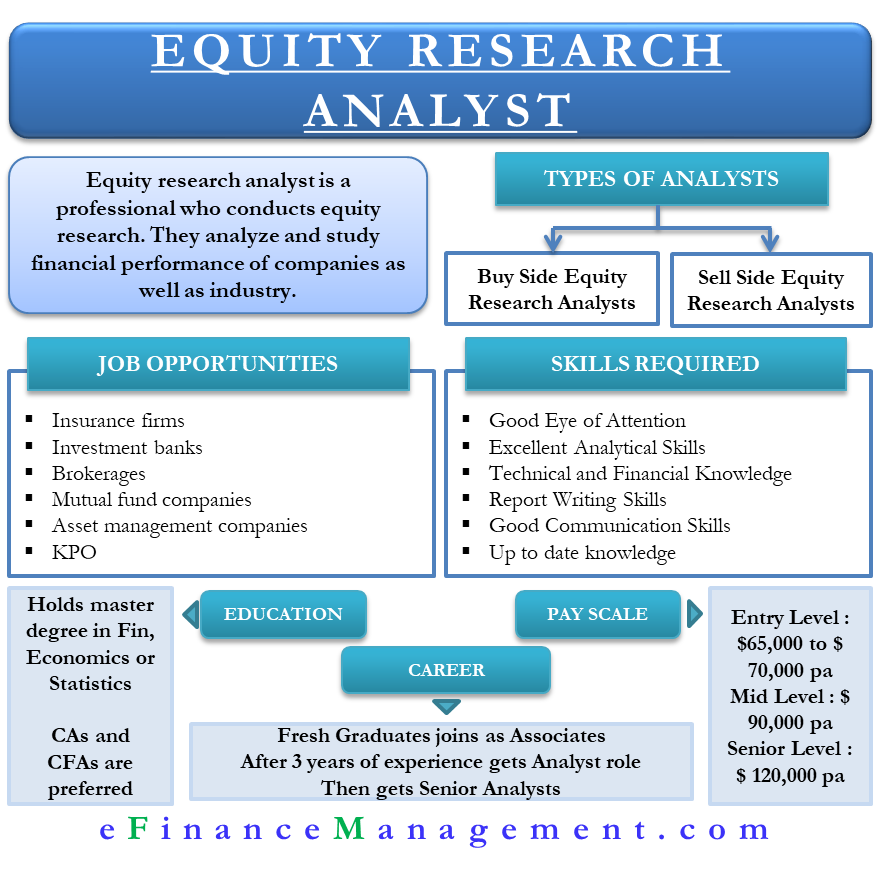 Skills Required by an Equity Research Analyst
The majority of the work done by equity research analysts is financial modeling and report writing. The following are a few skills required to be successful in his career.
Good eye for attention to detail
Excellent analytical skills to identify the trends in the financial performance of companies.
Strong technical and financial knowledge to analyze all the financial statements and intercept companies' earnings reports.
Report writing skills
Good communication skills to communicate his investment strategies to investors
Up to date knowledge of the current market and industry trends
Which Companies Hire Equity Research Analysts?
As discussed in the previous headings, an equity research analyst could find a job in buy-side and sell-side firms, including KPOs.
Few companies that hire them:
Insurance firms
Investment banks
Brokerages
Mutual fund companies
Asset management companies
KPO
Education and Career Paths
Education
Equity research usually holds a master's degree in Finance. Candidates having a master's degree in economics and statistics also find roles in quantitative roles in the equity research domain. People who are a CA also find a way to successful career paths in this field.
It is not mandatory, but it is better to have a CFA (Certified Financial Analyst) certification to excel in the equity research domain.
Career Path
A fresh graduate usually joins the organization as an Associate. After around three years of experience, he might be promoted to an Analyst role. After that, an equity analyst spends most of his career as an Analyst or Senior Analyst with varying roles and responsibilities. All associates and analysts work for the portfolio manager. He is the one who handles a portfolio and is directly answerable to clients.
Compensation
Analysts working on the buy-side usually earn higher than the sell-side analysts do. The average salary of an equity analyst in the entry role in the US is $65,000-70,000 per year. Mid-level equity analyst earns about $90,000 per year. A senior equity analyst earns about $120,000 per year in the US.
Read more about Equity Research.