What is Equity Research Buy-Side?
Equity research is a subject in financial analysis, which deals with analyzing the financial statements of a company or stock using techniques like financial modeling and ratio analysis. The result of an equity research analysis is to give recommendations on a stock, whether to buy or sell. Therefore, people who conduct equity research are equity research analysts.
Equity research is divided into Buy-side and Sell-side, majorly based on the type of clients they serve.
The buy-side section of an equity research domain deals with actually buying the securities. They are those firms that invest their own money (or their customer's money) in buying or selling securities. Examples include asset management firms, hedge funds, pension funds, trusts, financial advisories, etc.
To explain clearly, let us consider an example of a pension fund run by a company named X. So. This company collects a certain amount as a premium from its customers every year. It promises to pay regular and periodic returns after a particular duration as a pension. Pension is the amount of money that a person receives mostly after they retire from their work. In order for company X to pay back the promised returns to its customers, it needs to invest the money elsewhere in the market. Hence, company X starts searching for suitable securities where it can invest in order to receive good returns. At the minimum, these returns should be able to pay back to its customers after retaining some amount as fees.
Hence, buy-side firms have a dedicated team of equity research analysts for conducting detailed research and providing recommendations on suitable stocks to invest in. These analysts working in the research team for buy-side firms are 'buy-side equity research analysts.'
Read more about Equity Research
Work of an Equity Research Buy-Side Analyst
The job of a buy-side equity research analyst is to perform a detailed analysis of the financial performance of companies or stocks on their radar. Their job is incomplete without giving recommendations on the stock – whether it is a buy or sell. All buy-side firms have their own investment strategies. Buy-side analysts have to closely observe market trends, perform exhaustive fundamental analysis of stocks, and determine if they align with the firm's investment strategies. They are usually up to date with everything happening in the industry and in the company. Since buy-side analysts are the stock investors, they are in regular contact with the company's management.
The research work done by a buy-side analyst is exclusively for a particular fund and is not generally available to the public. It is highly confidential and is used by analysts within the firm.
Buy-side analysts rely heavily on the work done by sell-side analysts. They look for research material developed by sell-side analysts from various sources and use them in their own research work before recommending a stock.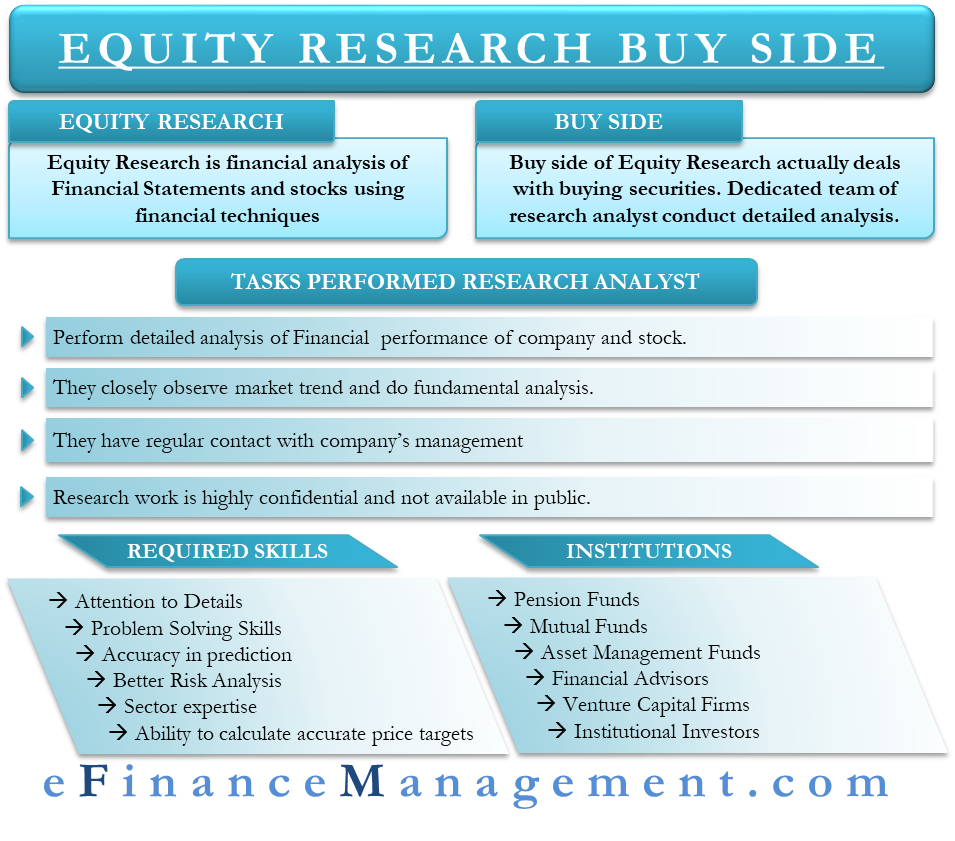 Skills Required for a Buy-Side Analyst
The success of a buy-side analyst depends on how accurately he predicts the financial estimates of the stocks and the success factor of the funds they manage. Hence, the qualities required by a buy-side analyst are
attention to detail,
problem-solving skills,
accuracy in prediction,
better risk analysis,
sector expertise and
ability to calculate accurate price targets.
Types of Institutions Where a Buy-Side Analyst Can Work
The following are the types of institutions that have dedicated teams for performing buy-side research.
Pension funds
Mutual funds
Asset management firms
Financial advisories
Venture capital firms
Institutional investors
Compensation
The compensation for a buy-side analyst is higher when compared to a sell-side analyst. As per the saying "higher risk – higher return & lower risk – lower return," a buy-side analyst holds more responsibility and accountability than a sell-side analyst in terms of accuracy of work and adherence to several standards. Hence, the difference in the payments.
The average salary earned by a buy-side equity research analyst in the US is $70,000-$80,000 per annum.
Must read: Equity Research Sell-Side