Every equity analyst's dream is to land on one of the best equity research firms. Working in such companies will give a good kick-start to one's career. The right kind of learning, exposure, organizational culture, and experience will help build the right career path.
This article lists a few of the best equity firms. Before we generalize the term equity research, let us understand that there are two types of equity research firms.
Types of Equity Research Firms
There are two types of equity research firms – buy-side and sell-side.
Equity Research Buy-Side Firms
As the name suggests, the main function of buy-side firms is to buy securities. They are the ones who invest heavily in the markets. They pool up money from different sources (or their clients) and invest in them to receive better returns. These companies have a dedicated team to conduct in-depth equity research and suggest the best stocks to buy. Examples of buy-side equity research firms are pension funds, asset management firms, insurance companies, etc.
Equity Research Sell-Side Firms
Sell-side firms are the ones who help corporates to raise money through selling securities. In other words, sell-side firms introduce different classes of securities to the financial market on behalf of the corporates. The majority of their work is to promote these securities to potential investors. Hence, sell-side firms also have an equity research team that will analyze these securities and prepare a detailed report portraying the strength and weaknesses of a firm. Their work is incomplete without providing an investment suggestion (buy, sell or hold) to buy-side firms or investors. Examples of sell-side firms include investment banks, commercial banks, brokerages, etc.
Read more on Equity Research.
Basic Difference
A person interested in pursuing a career in equity research can find opportunities in either buy-side or sell-side companies. Depending on the interest and experience, one may choose which type of firm to work for.
However, job aspirants seeking a career in equity research will often ponder on these questions – which firm is the best to work for – buy-side or sell-side? Which pays better? What is the difference in the skills required for both types of firms? Let us discuss these answers in detail.
The Difference in the Work
The type of work is almost similar in both buy-side and sell-side firms. However, the perspective of equity analysis changes as the functions performed by each side for the client varies.
The role of a buy-side analyst is to make an investment decision – whether to buy, sell or hold. On the contrary, a sell-side analyst only gives investment suggestions to buy-side analysts. It is the job of buy-side analysts to make the final decision.
The buy-side analyst is required to interact with the clients, learn their requirements, explore investment opportunities and explain the company's investment strategies to the clients. The role of sell-side analysts is to sell their investment ideas to the buy-side people.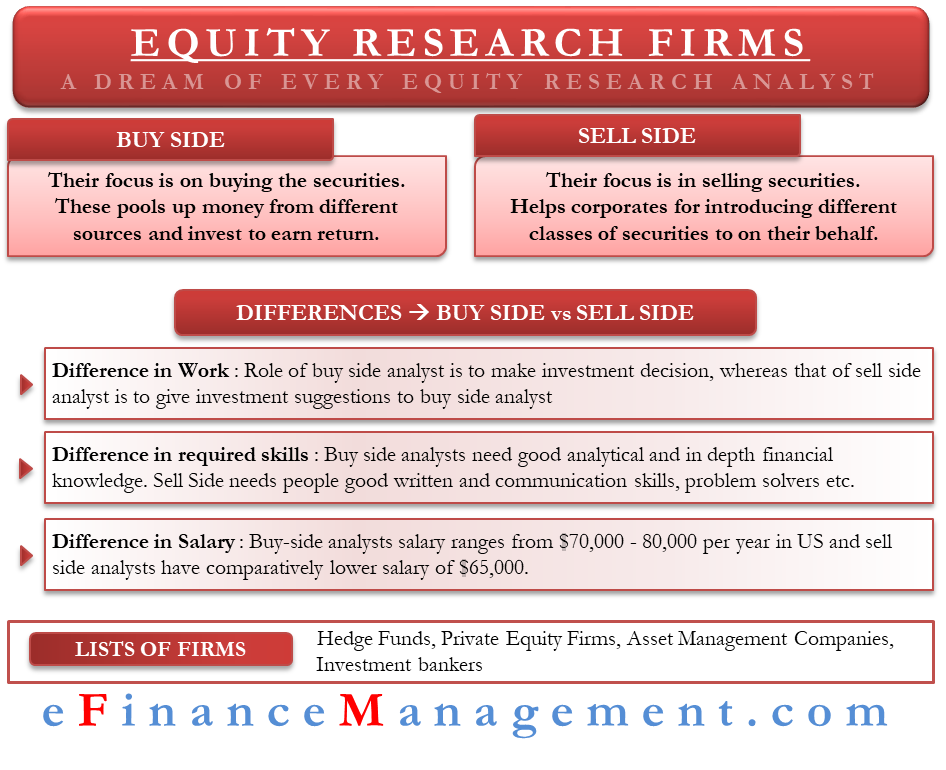 The Difference in Skills Required
The skills required for entry-level jobs in both buy-side and sell-side are almost similar. Financial modeling and expertise in excel are the skills that are sought after by the companies.
Buy-side analysts are responsible for making investment decisions. Hence, companies look for people who have good analytical skills and in-depth financial knowledge. They have to be capable enough to convince the clients with their investment strategies.
A sell-side analyst's job is relatively simpler compared to a buy-side analyst's job. However, their reports need to be error-free and right to the point. Hence, companies look for people with good written and communication skills, the ability to analyze financial statements, and problem-solving capabilities.
The Difference in Salary
Buy-side analysts shoulder more responsibility compared to sell-side analysts. Therefore, they obviously command higher pay than sell-side analysts do.
The compensation for a buy-side analyst in the US is in the range of $70,000 – 80,000 per year. A sell-side analyst earns an average of $65,000 per year in the US.
List of Equity Research Firms
The following is the list of a few popular buy-side equity research firms:
Hedge Funds
Blackstone Group
Eagle Asset Management
HBK Capital Management
Renaissance Capital
Private Equity Firms
Bain Capital
Carlyle Group
TPG Capital
TA Associates
Asset Management Companies
Blackrock
The Vanguard Group
UBS
State Street Global Advisors
Fidelity Investments
The following is the list of a few popular sell-side equity research firms
Investment Banks
Goldman Sachs
JPMorgan Chase
Barclays Capital
Deutsche Bank
Wells Fargo and Company
Bank of America Merrill Lynch
Morgan Stanley
Citigroup
Brokerage Firms
Associated Securities Corp.
AXA Advisors, LLC.
Ameritas Investment Corp.
Capital Financial Group
S. Bancorp Investments, Inc.
Lincoln Financial Advisors