Meaning of Euro Commercial Paper
Euro Commercial Paper (ECP) is an unsecured, short-term debt instrument that is denominated in a currency differing from the domestic currency of the market where it is issued. The ECP works to be an attractive short-term financing tool for firms that wish to reduce forex market risk.
On knowing the meaning of Euro Commercial Paper, let us know about the characteristics for the same.
Characteristics of Euro Commercial Papers
The following are the characteristics of Euro Commercial Papers:
ECP are generally issued at a discount or on an interest-bearing basis, in the form of a promissory note.
The time period for the maturity of an ECP ranges from a few days to a year. The most common time period for maturity is 182 days.
An investment of a minimum amount of $500,000 is required for an ECP.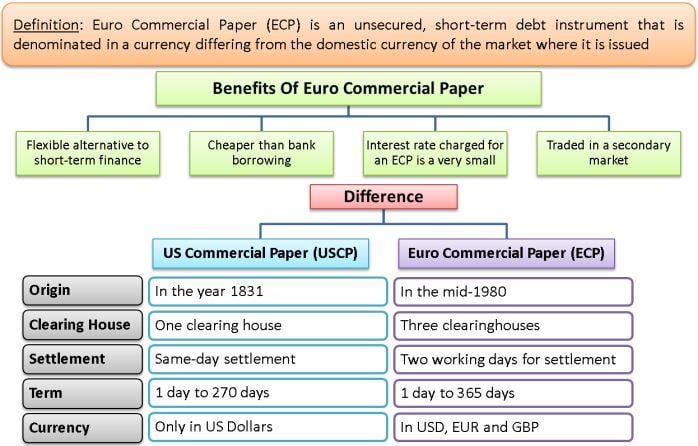 After understanding the characteristics of ECP, we will see the benefits involved with it.
Benefits Of Euro Commercial Paper
The following are the benefits of an ECP:
ECP is a flexible alternative to short-term finance without the requirement of collateral.
ECP proves to be cheaper than bank borrowing; thus, it is an attractive funding source.
The interest rate charged for an ECP is a very small margin above the market rate.
ECP can also be traded in a secondary market.
Difference Between US Commercial Paper and Euro Commercial Paper
The principals and operations of US Commerical Paper (USCP) and Euro Commercial Paper are similar; however, some distinct features for both have been identified below:
Origin
The USCP market started in the year 1831 as a prime source of short-term funding in the US domestic market. However, the ECP market is relatively new and originated in the mid-1980.
Clearing House
The settlement of USCP is only through one clearinghouse, The Depository Trust Company. ECP settlement is through one of the three clearinghouses, Euroclear, Clearstream, and The Depository Trust Company.
Settlement
USCP offers a same-day settlement and thus can be used for overnight funding. ECP takes two working days for settlement and does not offer an overnight settlement.
Term
The term for USCP is 1 day to 270 days, the most popular period being 30 days to 90 days. The ECP holds a term for 1 day to 365 days, the most popular time frame being 182 days.
Currency
The issue of USCP is only in US Dollars. At the same time, an ECP is issued in USD, EUR, and GBP.
Conclusion
Euro Commercial Papers have grown in popularity over the years and attracted the interest of large European companies in the requirement of short-term loans.
Also, read International Financial Markets.