Pac Man Defense: Meaning
Pac Man Defense, as the word suggests, is a defensive strategy in case of a hostile takeover. Under this strategy, the target company tries to become the acquiring company by making an offer to acquire the firm that is working to acquire it. Or, we can say that in this strategy, the company facing the hostile threat "turns the tables" by acquiring its acquirer. To implement this strategy, the target firm usually buys back its shares, as well as buys the shares of the acquiring firm.
Read more

: Pac Man Defense – Meaning, Pros, Cons, and Example
For example, Company A wants to buy Company B. But for some or other reasons the board of company B declines the offer of company B. And instead, Company B makes a counter offer to buy company A to foil the takeover attempt.
Such a strategy, however, is not easy to implement. Moreover, this strategy is quite expensive too. This is because the company had to borrow vast amounts of money or empty its reserves to buy the potential acquirer. Some firms maintain a war chest for such a situation. A war chest is the cash buffer that a firm maintains to protect itself from uncertain adverse events. Generally, a company invests its war chest in liquid instruments, such as Treasury bills and bank deposits.
This strategy gets its name from the popular 1980s video game called Pac-Man. In the game, after eating a power pellet, Pac-Man receives the power to eat the ghosts chasing him. In 1982, Martin Marietta Corp. was the first to use this strategy.
For some firms, it could be one of the few defensive options available to save themselves from a hostile takeover. In terms of drawbacks, it could prove an expensive strategy. Also, shareholders of the target firm may witness a loss in the value of stocks or lower dividends going ahead.
How Firms Fund Pac-Man Defense?
A target firm can tap the following sources to fund the acquisition in the case of Pac Man Defense:
Debt financing
The target firm can use debt financing. But before taking on debt, it needs to ensure that it would be able to pay back the debt and the interest. The target firm can also issue bonds to raise more money.
Selling own Assets
The target firm can gather funds by using its existing cash or cash equivalent assets. Or, the target firm can also sell its non-important assets to raise more funds. It can also sell its non-core business units to gather funds for the purpose.
Issue Shares
Issuing new shares serves two purposes. The first is that it helps to raise money to fund the acquisition. And the second is that it dilutes the target firm's holdings, thereby making it harder for the acquiring firm. This is because the acquiring firm will now have to buy more shares to get the controlling stake.
War Chest
As said above, the war chest is the reserve that a company maintains to face adverse events. This chest is either in the form of cash, or other liquid assets, such as bank deposits and T-Bills.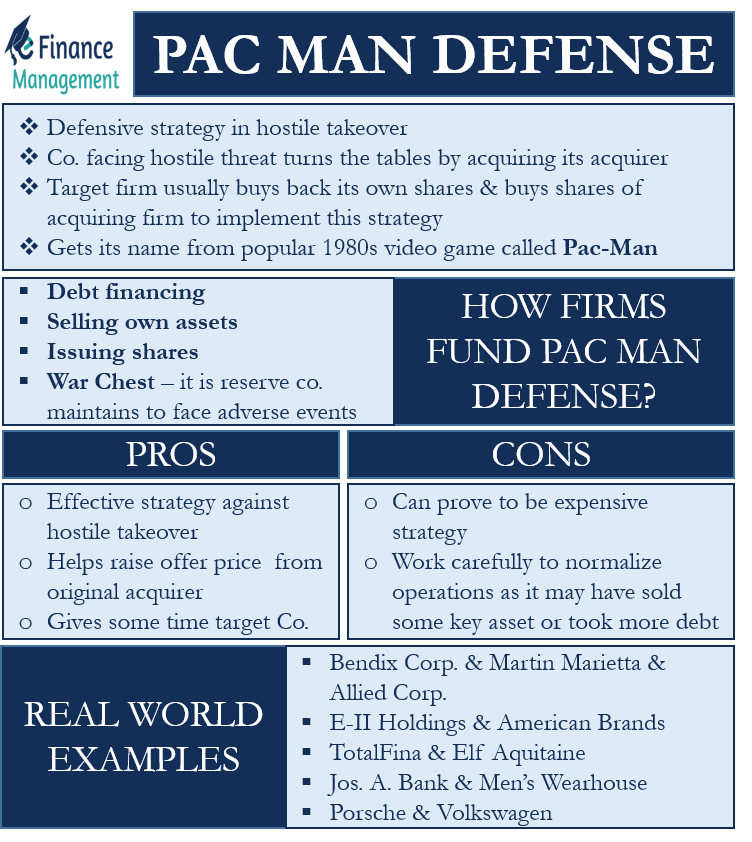 Pros and Cons of Pac-Man Defense
Following are the pros of Pac Man Defensive strategy:
This strategy is quite effective as the target company itself becomes the acquirer. The entire game plan of the acquiring company goes for a toss. Rather it endangers the existence of the acquirer company itself.
It helps to raise the offer price from the original acquirer. Something similar was seen in the case of TotalFina and Elf Aquitaine. A point to note is that once the acquiring firm makes a bid that is within the target company's acceptable range, the hostile takeover becomes a friendly takeover. Resistance and declining offer make the acquiring company to shell out more.
Such a defense gives some time to the target company to come up with other defenses. The other defenses could be selling valuable assets, buying back own shares, and more.
Following are the cons of Pac Man Defensive strategy:
It could prove an expensive strategy if the two firms are of equal size or the acquiring company is somewhat bigger. In such a case, the target firm will have to use all sources to gather funds to acquire the other firm.
If the target firm can acquire the other firm, then it would have to work very carefully to normalize its operations. This is because, in the process, the target firm may have sold some of its key assets or taken more debt to gather funds for the acquisition. Any slight mismanagement or delay in the execution of the plan may prove costly for the target company and its shareholders.
Real-World Examples of Pac-Man Defense
Following are some of the most popular examples of Pac-Man Defense:
In 1982, Bendix Corp. made an offer for Martin Marietta, an aggregates and heavy building materials firm. To foil the acquisition, Martin Marietta sold many of its business segments as well as took a debt of over $1 billion. At one time, Bendix Corp. had over 70% of Marietta's stock, and Marietta had over 50% of Bendix's stock. This acquisition battle destroyed the financial position of both firms. And Allied Corp. took benefit of this by acquiring Bendix Corp.
In 1998, E-II Holdings made an acquisition offer for American Brands. After a month-long takeover battle, American Brands eventually acquired E-II for $2.7 billion. American Brands made use of its existing lines of credit and a private placement of commercial paper to finance the acquisition.
In 1999, oil company TotalFina made an acquisition offer of $48 billion for Elf Aquitaine. In response, Elf Aquitaine came up with a counter offer of $50.97 billion. Eventually, TotalFina was able to acquire Elf Aquitaine after it made an offer of $54 billion.
In 2013, Jos. A. Bank made an acquisition offer for rival Men's Wearhouse. But Men's Wearhouse made a counter offer and finally acquired Jos. A. Bank for $1.8 billion.
In 2005, Porsche came up with several offers to buy Volkswagen, but they failed. Following the 2008 financial crisis, Volkswagen started acquiring Porsche shares when there was a drop in Porsche's share price. And in 2012, Volkswagen got hold of 100% of Porsche shares.
Final Words
Pac-Man Defense is a post-offer hostile takeover defensive strategy. Generally, this strategy is not sufficient individually to foil the takeover bid as it is an expensive strategy. That is why not all types of companies can implement it. Thus, the target firm should use this strategy in conjunction with other defensive strategies.