Due diligence is a process that helps determine the overall viability of a merger, an acquisition, or an investment. An investor or an analyst has to cover a variety of areas to conduct due diligence of a prospective deal. Therefore, it is a common practice to make a due diligence checklist. The common question here is, why make a due diligence checklist? Following are the main advantages due to which due diligence checklist becomes an indispensable tool –
The due diligence checklist helps keep the due diligence process organized and hassle-free.
It is used so that no detail is overlooked during the analysis of the deal. There is a very high chance of missing a few details because mergers, acquisitions, and investments are very lengthy and tedious transactions.
It helps in streamlining each task and planning the whole process. Furthermore, it also helps in adhering to process timelines.
Now that we understand the nature and importance of a due diligence checklist let us understand what a due diligence checklist includes.
Due Diligence Checklist
Each organization has its own method of conducting due diligence and, therefore, its own due diligence checklist. Therefore each has its own checklist. A checklist used by PWC may differ from a checklist used by McKinsey. However, the basic objective and framework remain the same. A holistic due diligence checklist includes –
Organization overview & Good Standing
The first step to a due diligence checklist is getting an overall understanding of the target company. The following checkpoints are included for this purpose –
Company registration documents, including the memorandum of association and other articles
List of directors, their status in the company, and their investments
Size of the company, which includes its authorized capital, market cap, number of employees, etc.
ITR documents for the last five years
Stock structure of the company, including future plans of buybacks, stock splits, stock sales, etc.
List of all subsidiaries of the company
Details of the company's presence in different markets and countries
Minutes of stockholders and board of directors meetings since inception
Sales, Customers, and Revenue Streams
We cannot stress enough on the importance of revenue and customers, which are driving factors for future profitability and growth. It is important for the buyer to understand the target company's USP and sales model before making the buying decision. The checklist includes –
What is the current turnover of the company? Review the historic year-on-year revenue growth
What is the sales pattern? Does the sale come from a few customers buying in bulk or many customers buying in small quantities?
Are customers loyal to the company?
What is the expense of sales, marketing, and branding?
Review the company's credit policy for its customers
What percentage of sales is the gross profit and net profit? How many days is the cash conversion cycle?
Are there any dealers/ strategic partners of the company? If so, review their contracts.
What is the future sales projection of the company? Is it achievable?
Products and Services
The products and services that a company offers form an integral part of the company. Therefore it is very important to understand each of the offerings. Following part of the due diligence checklist can be really helpful for this –
List of all products and services offered by the company.
List of upcoming products or products under research and development.
Registration and licenses of each product and its related IPR.
Summary and cost of after-sales service provided by the company.
Summary of all the old and recent product testing, market research, analytics, etc.
Current market share for each product and its future projections.
Profitability and cost structure of each offering.
Nature of industry and the viability of products that the company offers.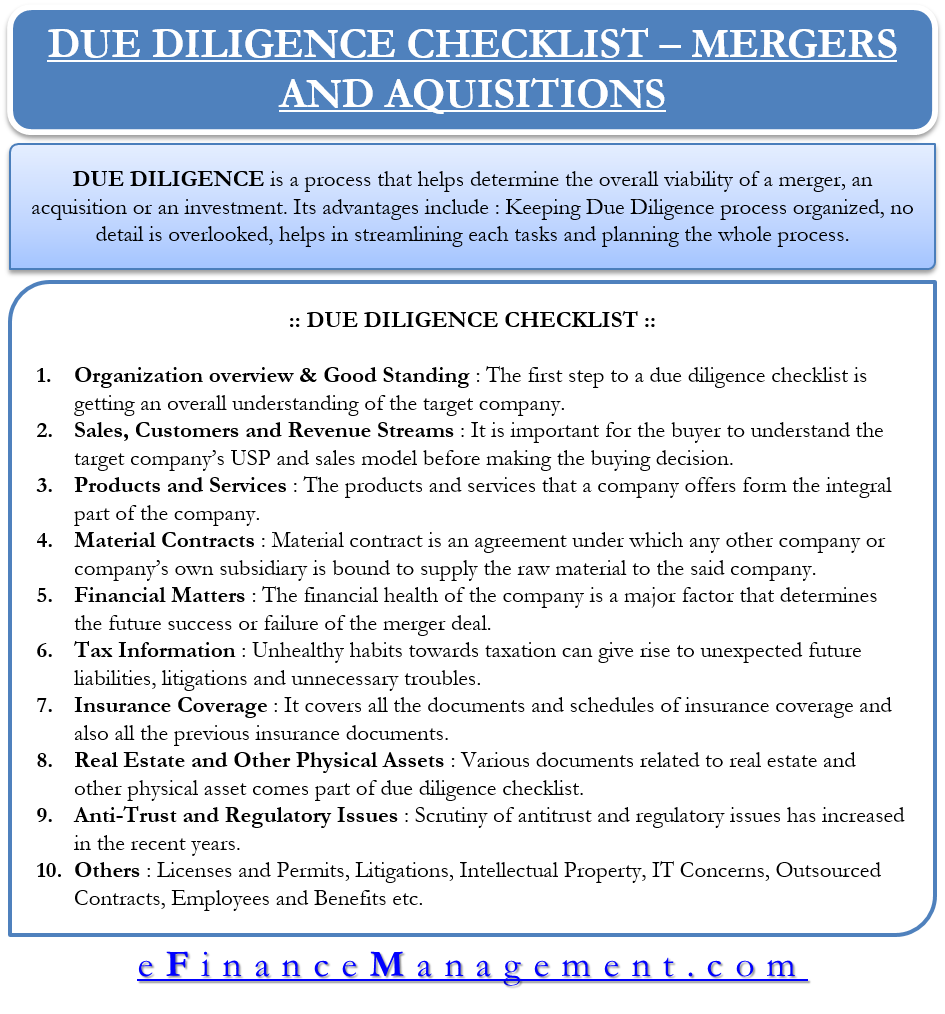 Material Contracts
A material contract is an agreement under which any other company or company's own subsidiary is bound to supply the raw material to the said company. Reviewing material contracts is important because they affect the productivity and production of the company, which in turn directly affects the profitability. Following related matters are reviewed in the due diligence checklist –
Raw Material and other components supply contracts.
Agreements of partnership, joint venture, subsidiary, etc.
Manufacturing yields – monthly, quarterly, and yearly.
List of all the loan agreements, collateral pledges, etc.
Balance sheet adjustments of both parties.
Copies of quotes, invoices, and purchases.
After-sales service agreements.
Distribution, dealership, franchise, and supply chain agreements
Financial Matters
One of the most important aspects of an M&A transaction is to study the financials of the target company. The company's financial health is a major factor that determines the future success or failure of the merger deal. Checklist for the same includes –
Checking in detail the target company's annual and quarterly financial statements, which include – income statement, balance sheet, cash flow statements, and its schedules and footnoted thereof.
Checking the historical financial performance
What are the company's future plans, and how does it reflect in its financial projections? On what assumptions the projections are made? Are those assumptions logical?
What is the capital structure of the company? Review the ownership pattern?
How leveraged is the company? How much debt is it carrying?
Thorough ratio analysis so that any discrepancy in the financial statements is highlighted and explained early on
How is the company managing its working capital? Does it have liquidity? Or is it stressed out for cash?
Tax Information
Tax information may not look that important in the beginning, but it is a very serious subject for due diligence. This is because unhealthy habits towards taxation can give rise to unexpected future liabilities, litigations, and unnecessary troubles. One must ask the following questions regarding the target company's taxes –
Review in detail the company's tax returns for the past three years – which include federal, state, local, and foreign taxes.
Copy of miscellaneous tax filings of the last three years, which includes – sales tax filings, excise tax filings, and employee tax filings.
Government audit reports.
Details related to pending taxes, tax carried forward, agreements to waive taxes, etc.
Details of any past claims or litigations from tax authorities.
Settlement documents for any past claims.
Insurance Coverage
Reviewing insurance coverage under due diligence includes the following –
All the documents and schedules of insurance coverage for the following items –

Insurance of building, plant, and machinery, vehicles, other assets
Insurance on intellectual property rights
Employees insurance
Directors and officers liability insurance
Workers compensation insurance
General liability insurance
Health insurance
Umbrella policy

All the documents related to past insurance claims.
Real Estate and Other Physical Assets
The following documents must be reviewed as a part of due diligence-
For Real Estate –

List of all real estate properties owned by the company.
List of all the properties on rent and lease and the agreement documents thereof.
Copies of deeds, mortgages, title policies, zoning approvals, and other ownership documents.

For Physical Assets –

List of all machinery and equipment – owned, rented, or leased
All the lease and rent documents and agreements.
Documents related to machinery and equipment sale and purchase over the last three years.
Furthermore, we require –
A schedule of depreciation of the fixed asset.
A summary of yearly expenses to maintain all the real estate and physical assets.
Anti-Trust and Regulatory Issues
Scrutiny of antitrust and regulatory issues has increased in recent years. The buyer must undertake the following analysis to understand these issues –
Analyzing the scope of antitrust issues, for example, issues such as – price cap on target company's products in a certain region, illegal monopoly, illegal collusion, etc.
Reviewing involvement in any past antitrust or regulation issues.
Understanding how the antitrust and regulation laws will affect the company after the M&A deal in question.
If the deal takes place in the United States –

Addressing issues involves preparing the Hart-Scott-Rodino filing
Considering Exon-Florio issues
Licenses and Permits
The buyer must examine all the licenses and permits of the target company before making the buying decision. They must look into –
Copies of all licenses, which include Federal, State, and Local licenses, permits, and consent forms.
Documents related to past regulatory issues related to licenses and permits.
Litigations
Due diligence checklist for litigations includes –
A list of pending litigation.
Claims against the company.
Pending government proceedings.
Past settlements and its resulting pending liabilities
History of litigations
Legal costs involved
Intellectual Property
Intellectual property rights are one of the most important aspects of an M&A deal. Sometimes companies are sold just because of their brand value/ copyrights/ trademarks, etc. A classic example that shows the importance of intellectual property is Google's acquisition of YouTube in 2006 for USD 1.65 billion, an acquisition that was mainly driven for the acquisition of the URL – www.youtube.com. A checklist for the intellectual property includes –
List of domestic and international patents, trademarks, and copyrights owned by the company.
List of brands owned by the company and the value of each brand.
Any registered trade secrets, processes, methods, recipes, etc. (e.g., Coke's famous secret syrup).
List of all the claims or disputes on the company's intellectual property.
Copy of all the clearance documents of each element of the property.
Calculation of maintenance expense for each patent, trademark, copyright, brand, etc.
IT Concerns
Information technology is one of the most important factors that affect businesses in the recent scenario. The buyer must understand the following checkpoints –
A list of software used by the company.
Documents related to all the licensed software of the company.
Level of customization of each software and the period before it gets obsolete or requires an update.
Current system usage and interface
Software and data backup systems.
Software maintenance cost and cost of future investment.
Outsourced Contracts
Outsourcing has now become a necessity for all organizations. Because of the effects of globalization, outsourcing has become easier and cheaper. During due diligence, the buyer must look into the following aspects of outsourced contracts –
A list of all outsourced contracts – national and foreign, be it to a company or a professional.
Documents related to outsourced agreements for raw material, technology services, etc.
Documents related to outsourced agreements for professional services such as accountants, lawyers, consultants, etc.
The logic behind each outsource contract and its viability after the deal.
Employees and Benefits
Employees and management are the strength of any company. It becomes difficult to retain employees after a merger or an acquisition. To get the mix perfectly one must include the following questions during the due diligence checklist –
Make and review a list of employees, their current positions, current salaries, etc.
Review the organization chart and structure.
A report of the total expense incurred in maintaining the current workforce.
Review contributions made towards employee insurance, provident fund, and taxes. Furthermore, review the pending liabilities towards the same.
Review current compensation structures of each band.
Are there any employee stock options or benefits to the employees?
What is the employee turnover rate? Is it possible to retain the current workforce after the M&A deal? Or is there a need for layoffs?
This checklist may look lengthy; however, it's still not comprehensive. This is a general idea of how and what a due diligence checklist should look like. Each deal brings new questions and challenges and hence needs its own customized due diligence checklist. For this purpose, there are specific analysts and consultants who are hired to conduct detailed due diligence, and they make a new due diligence checklist every time there is a new deal.