Like most aspiring investment bankers, you might have probably typed "courses to become investment banker" in your Google browser and ended up here! However, the question you are asking is wrong. What most people don't understand is that investment bankers are much more than their courses, degrees, or pedigrees. Investment banking is a skill that comes from studying, learning, and applying the right concepts over time.
Roadmap to Become Investment Banker
The beauty of this field is that it doesn't have much of prequalification criteria for job opportunities. As far as one has a college degree, people from all backgrounds and walks of life can apply for an investment banking job. So simply learning all the above-mentioned subjects and skills will take you ahead in the game.
With the rise of the internet and social media, learning has become very easy. One can get an account on websites such as Coursera, Edx, Udemy, etc., and start picking up new skills for free. A host of Ivy League University courses are available on these websites. It has now become easier than ever for an earnest aspirant to learn all the required skills. After learning these skills, you can network and get yourself an interview. However, the competition is cutthroat, and getting an interview with hiring managers in investment banks is extremely difficult. Therefore, one can pursue a few degrees and certifications to get an edge.
Graduation
Graduation is a basic requirement for applying to an investment bank. Your chances increase if you pass out from a top university in your country. If you are in the USA, graduation from Wharton, MIT, etc., will increase your chances. If you are in Europe, target the London School of Economics, Imperial College, etc., for graduation. Even though investment bankers come from all fields, it goes without saying that a bachelor's in finance degree will always be preferred over a bachelor's in philosophy.
Master's Program in Related Field
This is the stage where investment banks become a little more selective. They will not hire someone with an MA in writing for their core investment banking functions. If you are considering a master's program to get a breakthrough in investment banking, then it is good to go for specialization in subjects such as finance, mathematics, economics, etc. Again it is good to pass out from a top-tier university in your country. This is not necessary, but it will make the path easier for you.
MBA from a Top Business School
If you are thinking of an MBA to break into investment banking, chances are you already have a few years of work experience behind you, and you are getting an MBA to change careers. This is the most difficult method. The competition is cutthroat, and investment banks only hire from top universities in the world. So if you want to get into Goldman Sachs, first, you better get an MBA from Insead or Wharton or the likes. It is not impossible to get a job in an investment bank through an MBA from a tier-two university, but your choices would be limited. You might get into a second-tier investment bank and will have to work your way up from there.
Also, one must consider that MBA from a top university can cost up to a quarter of a million dollars plus the opportunity cost of not being able to work during the term of your MBA. It is a huge investment, and like all investments, it is good to do a cost-benefit analysis before taking this plunge.
Certifications
There are many financial certifications that can be done to break into investment banking. Some of the usual ones are –
These certifications are for those who are already working in finance and want to move into investment banking. For example, if an aspirant is working as a wealth manager in a commercial bank and gets a CFA charter, his chances of getting a job in investment banking increase exponentially. The certifications are comparatively cheaper, too, when compared to an MBA. As a matter of fact, the curriculum of CFA certification is the gold standard for anyone who wants to pursue investment banking. However, it can be quite difficult as well.
Finally, let's not forget the importance of putting learning into practice. This is where internships come into the picture.
Internships
As an undergraduate or a graduate student, you will have a lot of free time during your summer or spring break. Utilize this time to the fullest to determine whether it is the right career choice for you. All the major investment banks in the world, be it first, second or third tier, accept summer analysts and interns. These internships last for 10 to 12 weeks. This is the golden opportunity where you can look into the internal workings of an investment bank without any long-term commitment. Try to do a variety of work during your internship. And try to meet new people from other areas and departments within the bank for maximum exposure.
Eventually, if you are good at your job as an intern, this internship can turn into a full-time offer upon graduation. Most investment banks are looking for talented individuals to fill the positions within the banks. Through this internship, they also get a chance to test their skills.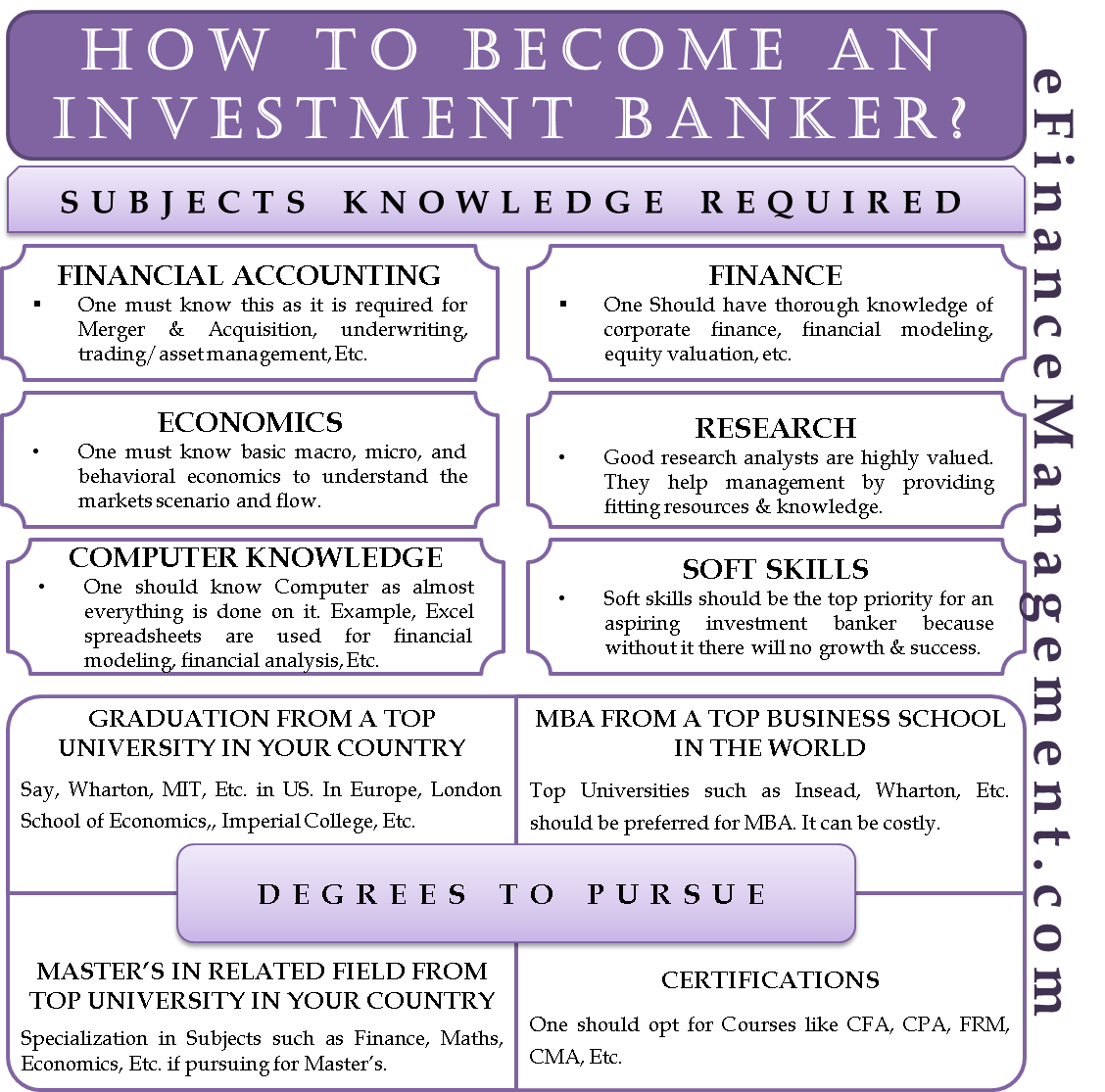 Subjects Knowledge Required
Let us look at the subjects you need to learn for becoming an investment banker.
Financial Accounting
As an investment banker, you will be dealing with financial statements on a daily basis. Any function of investment banking, be it in merger & acquisition, underwriting, trading, or asset management, requires that the banker has the ability to analyze and make appropriate conclusions from the financial statements. That doesn't mean you need to know how to write books of accounts and make financial statements. But you need to have enough knowledge of reading financial statements in order to understand the financial health of the company based on its financial statements.
Finance
Finance is one subject where things can get tricky. The subject itself is so vast and has so many specializations that it can take a long time to cover everything. As an investment banker, you must at least know subjects such as financial modeling, equity valuation, etc. You can learn other subjects related to the scope of the particular investment banking function that you want to pursue. For example, you must learn corporate finance if you decide to work in mergers and acquisitions or portfolio management if you decide to become a trader in an investment bank.
Economics
Again, like finance, economics is a very vast subject, and you don't need to be a Ph.D. in Economics to work in an investment bank. However, you must know the basic macro, micro, and behavioral economics to understand the market's scenario and flow. For example, an underwriter needs to understand the world economic environment to decide the best timing for introducing an IPO in the market.
Research
Research is not a subject that can be taught; it is a skill. Good research analysts are highly valued in investment banking and all other types of organizations. This is because researchers help the management by providing fitting resources and knowledge to find answers to the most pressing questions. To become a good researcher, you must find answers and ask the right questions to come to correct answers. Some people are naturally more curious and are good at research, while others have to develop the skill. Practice is the only way to hone this skill.
Computer Knowledge
This will not come as a surprise to anyone targeting investment banking as a career option. Investment bankers use excel spreadsheets on a daily basis for financial modeling, financial statement analysis, and almost everything else. They also have to make presentations for their clients and seniors. As an investment banker, you must be meticulous with both Microsoft Excel and PowerPoint; it is better to learn the whole Microsoft Office Suite. It goes without saying that you must also know how to research on the internet, e-mails, calls, etc.
Soft Skills
This area is where most people become negligent. There will be aspirants who say, "I am a financial wizard. Why would I need soft skills?" Well, that is where we go wrong. Soft skills should be the top priority for an aspiring investment banker. One may ask why? The answer to this question is simple: investment bankers are service providers and sell investment banking services. In fact, almost 30% to 40% of an investment banker's job is selling, and this percentage increases as one moves high up the ladder. Soft skills are a must for this job. Imagine the CEO of a Fortune 500 company doesn't know how to deliver speeches! One can't stress enough about developing impeccable soft skills to have a career as an investment banker.
Refer to Best Books on Investment Banking for more.
To conclude, getting a job at an investment bank can be very difficult. But, becoming an investment banker is even more difficult. The job is extremely demanding, and an aspirant should think through it before falling for the glamor and glitz attached to the word "investment banking."
Also, read – Investment Banker Salary.