If we define investment banking, it is a division of a bank that aids large complex financial transactions for companies, governments, and other entities. Large and small investment banks flood the industry. In today's article, we will try to give information about different investment banks.
Firstly, it is important to understand the structure of the investment banking industry. There are mainly four types of investment banks. Each of these types is categorized in their type by factors such as the size of the bank, its coverage in the area, and the types of services it provides. Let's first understand the types of investment banks: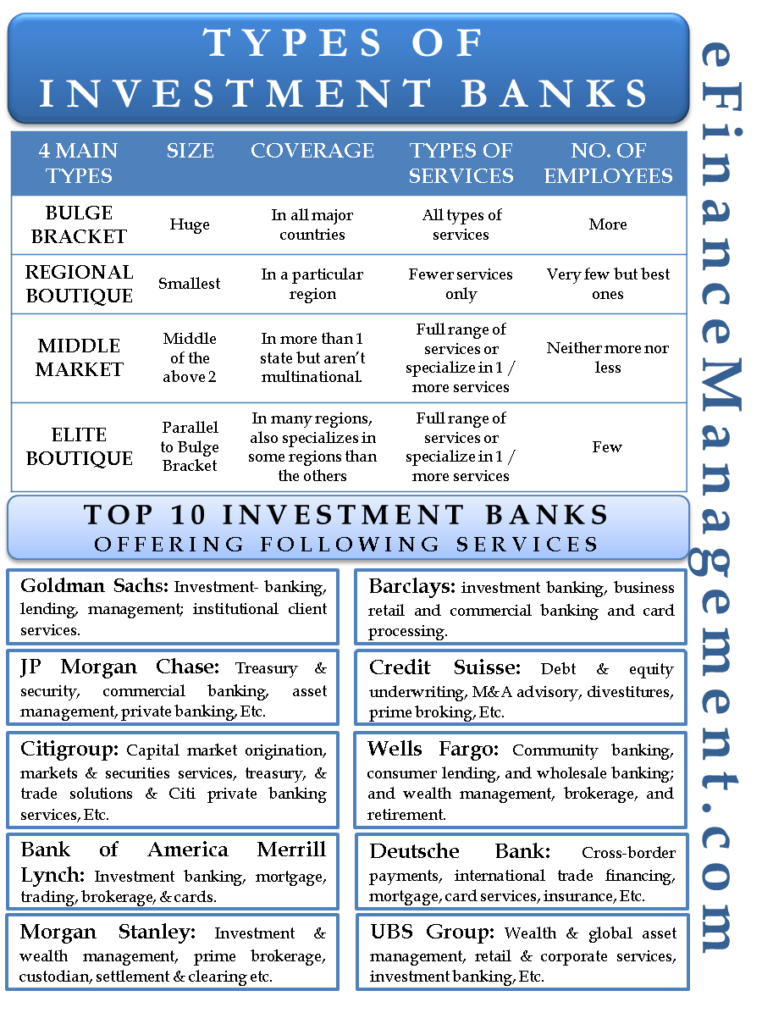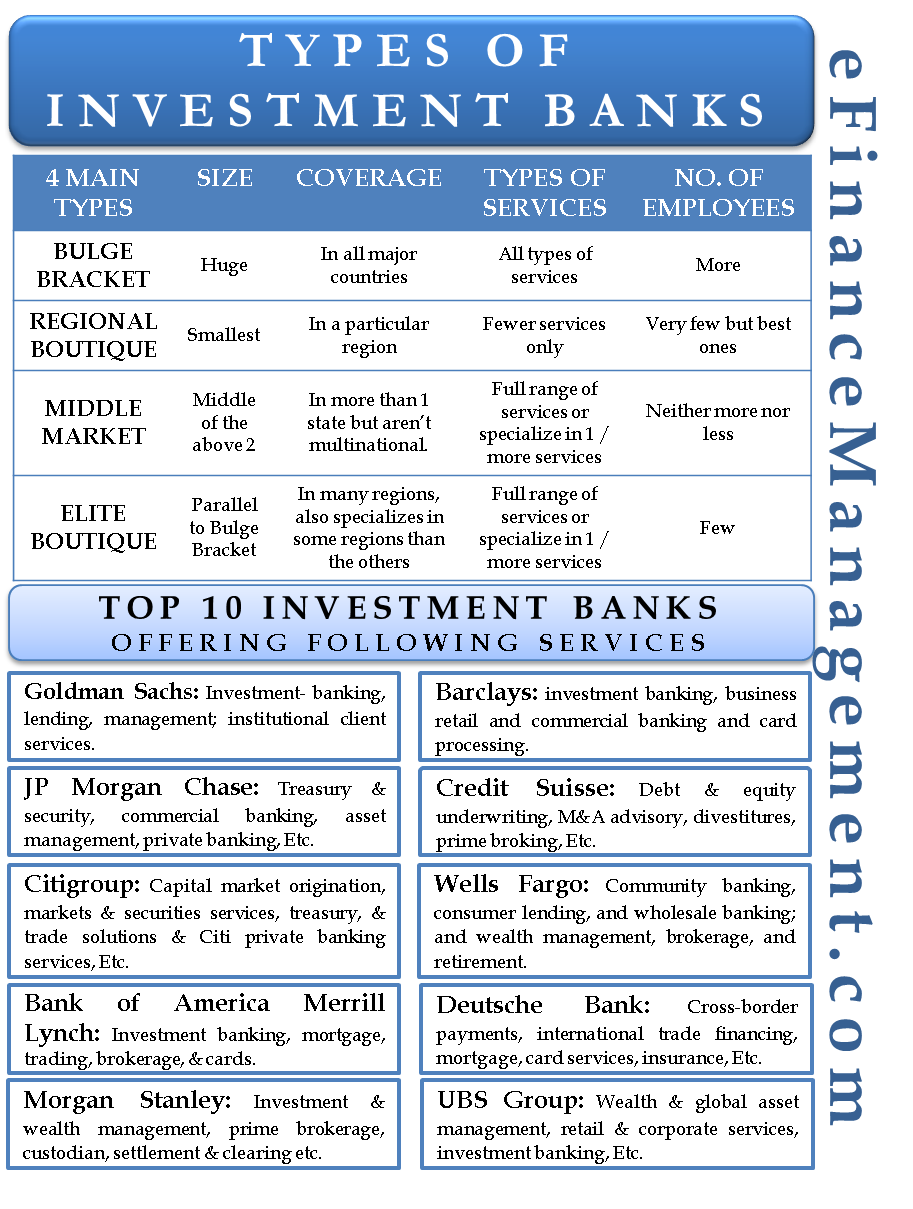 Types of Investment Banks
Bulge Bracket Investment Banks
Bulge bracket investment banks are also known as a full-service investment banks. The examples include well-known names such as Goldman Sachs, Deutsche Bank, Credit Suisse, Morgan Stanley, etc.
These banks are mammoth in size, and a majority of their clients include Fortune 500 companies. They frequently aid multi-billion dollar deals and provide all the investment banking services. Geographical borders do not limit these banks; they offer services in all the major countries in the world.
Regional Boutique Investment Banks
These are completely on the opposite end of the spectrum from bulge bracket banks. These banks are the smallest in size, and as the name suggests, their services are concentrated in a particular region. These banks usually do not offer the whole range of services as well. So an example of a regional investment bank would be a California based investment bank dealing in M&A transactions only. These banks have very few employees, a few dozen at best. They also handle smaller sized for small local companies, deals ranging from USD 50 to 100 million.
Middle Market Investment Banks
Middle market banks occupy a market between regional boutique banks and bulge bracket banks. They are bigger than the regional boutique banks but smaller than bulk bracket banks. These banks may offer full services or specialize in one or two services. Geographically they are wider than regional boutique banks, they may cover an expanse of more than one state or region, but they are not multinational. They involve in deals ranging from USD 50 million to 500 million. Some of the most well-known middle-market investment banks are William Blair Co., Stifel, Lincoln International, Robert W. Baird & Co., etc.
Elite Boutique Investment Banks
Elite boutique investment banks are a little different from all the above-mentioned types. In the dollar value of the deal size, elite boutique banks are parallel to bulge bracket investment banks. However, unlike bulge bracket banks with thousands of employees, elite boutique banks have a much smaller employee pool. They have operations in multiple regions; however, they are usually stronger in some regions than others. These banks usually provide a full range of services but are stronger in one or few services. They may also have specialization in a particular sector, for example, an investment bank specializing in M&A deals in the oil and gas industry. Rothschild in Europe is a classic example of an elite boutique bank.
Now coming to the question that most aspirant asks – Which are the top 10 investment banks in the world? Hands down, all the banks in the top 10 are bulge brackets or elite boutique banks. Though rankings change from agency to agency and time to time, the following banks have been in the top 10 for a long time now:
Top 10 Investment Banks in the World
Goldman Sachs
One of the leading investment banks for more than a century, Goldman Sachs was established in 1869 in New York City. The bank operates in four different segments, namely investment banking, institutional client services, investing and lending, and investment management. The investment banking division alone earned more than USD 5 billion in fees in the year 2016.
JP Morgan Chase
JP Morgan Chase is one of the largest investment banks in terms of global reach. The bank provides its services in more than 60 countries. It has a market share of 8% in the investment banking industry which is quite substantial for such a populated industry. The company provides investment banking, merchant banking, treasury and security, commercial banking, asset management, private banking, and many other services.
Bank of America Merrill Lynch
Bank of America provides a wide variety of services, including investment banking, mortgage, trading, brokerage, and cards. It operates in more than 40 countries and had a net income of USD 18.23 billion in the year 2017. Bank of America Merrill Lynch was named World's Best Debt Bank by Global Finance and The Most Innovative Investment Bank for private placement by The Banker.
Barclays
Almost as old as Goldman Sachs, Barclays was founded in 1896 in London. Its investment banking division is called Barclays Capital, and apart from investment banking, it is also in commercial banking and business retail and card processing. Barclays made USD 3.2 billion in investment banking fees, with one of the biggest earnings in 2016.
Morgan Stanley
Headquartered in New York, Morgan Stanley has a strong global presence with principal offices in London, Tokyo, Hong Kong, and other financial centers of the world. It provides services in the segments of institutional securities, investment management, and wealth management. It also offers diversified services such as prime brokerage, custodian, settlement and clearing, etc.
Citigroup
The oldest and the widest reach bank in the top 10, Citibank was established in 1812 and had operations in 160 countries. It has a stronghold in investment banking as well as commercial banking. It is divided into five divisions, namely – capital market origination, markets and securities services, corporate and investment banking, treasury, and trade solutions, and the Citi private bank. Citibank made USD 3.8 billion in investment banking fees in 2016.
Credit Suisse
Based in Zurich, Switzerland, Credit Suisse was founded in 1856. It is one of the strongest European investment banks, with operations in more than 50 countries. In its investment banking division, it offers debt and equity underwriting, mergers and acquisition advisory, sales and trading, divestitures, prime broking, capital raising, investment research, and many more. It also has a presence in services of taxation and advisory, structural lending, and real estate leasing.
Deutsche Bank
One of the largest banks in Europe by total assets, Deutsche Bank, offers not only investment banking services but also specializes in cross-border payments, cash management, international trade financing, mortgage, card services, and insurance. Though based in Germany, Deutsche Bank is listed on the New York stock exchange and has operations in 71 countries.
Wells Fargo
Wells Fargo is the largest bank in the world by market value and is very popular in the United States for all its services. The bank has four major divisions – investment banking, community banking, consumer lending, and wholesale banking; and wealth management, brokerage, and retirement. Though very popular in the United States, Wells Fargo doesn't share the same popularity worldwide as the other banks on the top 10 list.
UBS Group
Another Swiss bank on the top 10 list, UBS, specializes in serving high net worth and ultra-high net worth individuals. It operated through six divisions – wealth management, wealth management Americas, global asset management, retail and corporate, the investment bank, and corporate center. UBS Group was named as Best Investment Bank in the World by Global Finance in 2016.
This list of top 10 is by no means exhaustive of the best investment banks in the world. Also, the ranking is in no particular order. There are so many other investment banks operating globally, nationally, and regionally that making a comprehensive list of all the investment banks is almost impossible.
Also, read – How to Become an Investment Banker?