When we look for books on investment, we are overwhelmed by the sheer volume of choices available. There are books on overview of investment banking, finance, technical analysis, economics, and the list goes on. However, our time is limited, and we can't read everything. So how to pick up the most relevant books? In this article, we will put down a list of investment banking books that we consider the most relevant. We have considered a number of factors such as recommendations by investment banks and seasoned investment bankers, rankings on the New York Times Bestseller list, and star ratings and reviews on Amazon Kindle, Goodreads, and Barnes and Noble to make this list.
Firstly we will list down books that give an overview of the investment banking industry –
Books for Overview of Investment Banking Industry & Careers
Monkey Business: Swinging Through the Wall Street Jungle
Author – John Rolfe & Peter Troob
With 4.3 stars on Barnes & Noble and 3.9 stars on Goodreads, this book is a great light read for aspiring investment bankers. Here the authors tell their story of passing out from a top business school and entering the world of investment banking. This book captures a taste of raw, uncensored Wall Street career for aspirants.
Barbarians at the Gate: The Fall of RJR Nabisco
Author – Bryan Burrough
Goodreads – 4.2 stars
Amazon – 4.5 stars
This book is a true story about the hostile takeover of RJR Nabisco, which was one of the biggest consumer goods companies in the US at the time. This is a very good read for aspiring investment bankers who want to understand the workings of mergers and acquisitions.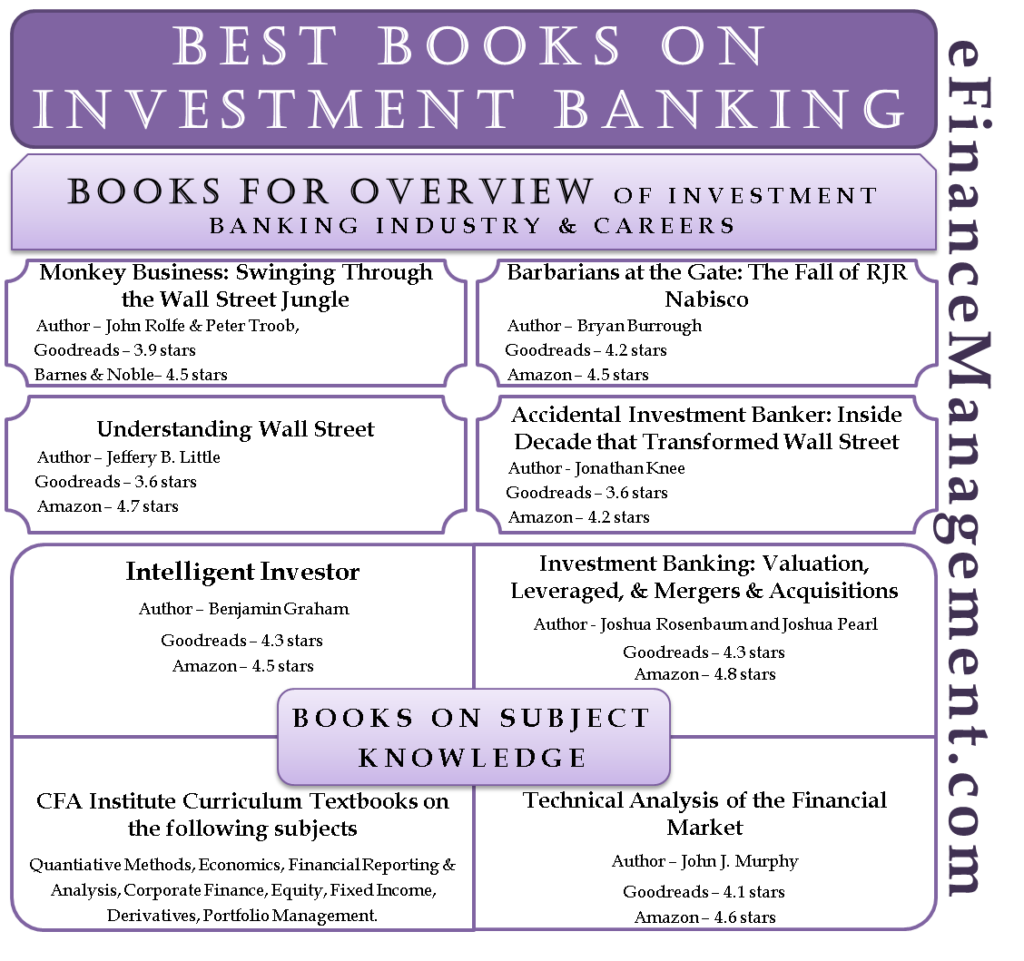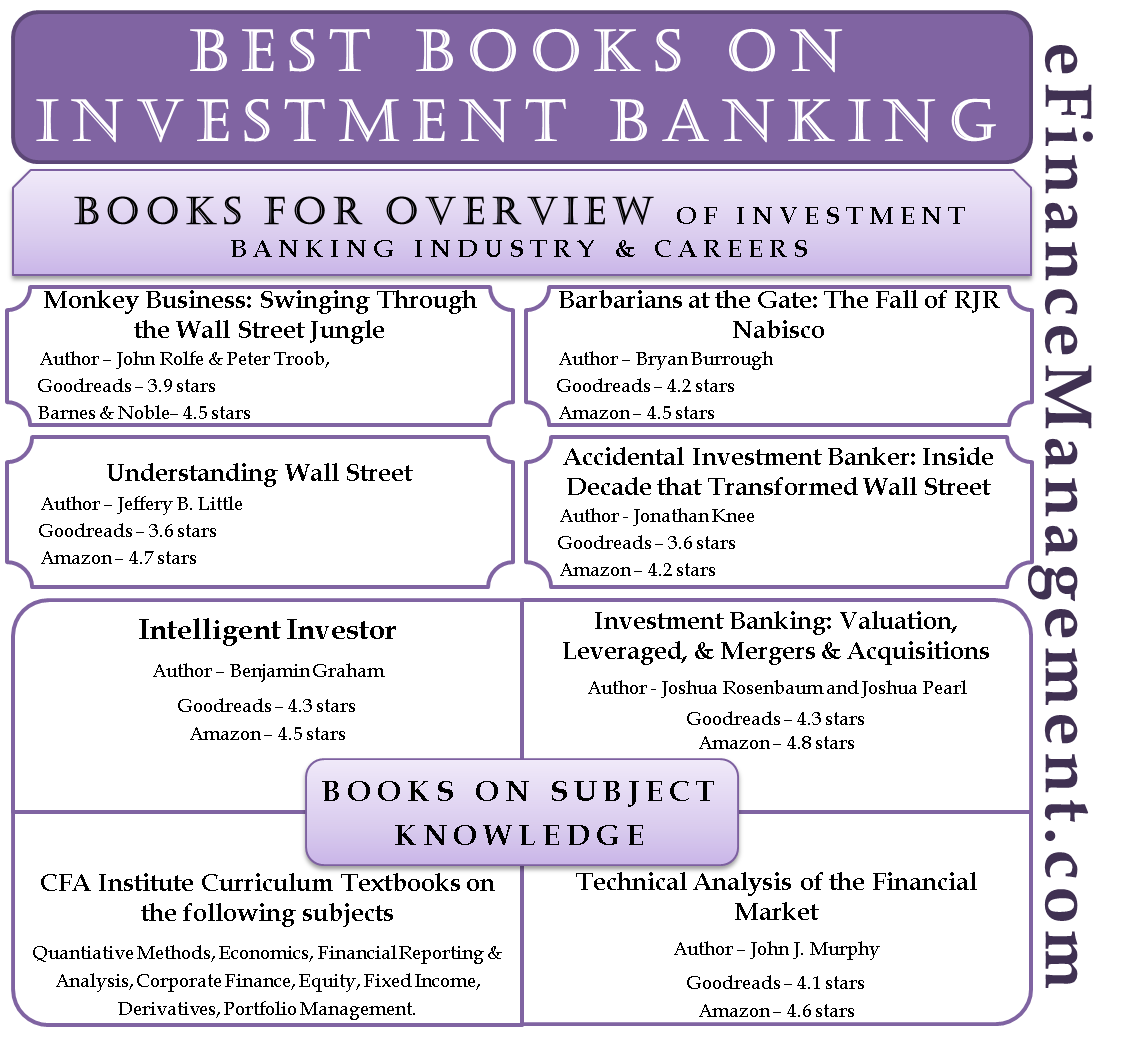 Understanding Wall Street
Author – Jeffery B. Little
Goodreads – 3.6 stars
Amazon – 4.7 stars
This is a great book for someone who has never dipped his toes in the financial market. It gives a basic overview of the stock market and how it works. That doesn't mean it won't be useful for seasoned investment bankers. It covers the in-depth working of the stock market and how to build optimal portfolios while simultaneously limiting risk exposure.
The Accidental Investment Banker: Inside the Decade that Transformed Wall Street
Author – Jonathan Knee
Goodreads – 3.6 stars
Amazon – 4.2 stars
Author Jonathan Knee has worked in the two most prestigious investment banks in the world, namely – Goldman Sachs and Morgan Stanley. In this book, Knee takes us on his journey as an investment banker at a time when investment banking was in its golden era. Furthermore, he discusses what makes or breaks an investment bank. It is a fun read for anyone who wants to glimpse behind the scene.
Secondly, we will put in some books that will give you subject knowledge & technical knowledge for investment banking –
Books on Subject Knowledge
Intelligent Investor
Author – Benjamin Graham
Goodreads – 4.3 stars
Amazon – 4.5 stars
First published in the year 1949, this book is a timeless classic for anyone who wants to understand the principles of value investing. It is written by Benjamin Graham, who was a very well-noted professor at Columbia Business School. It is common knowledge that the most successful investor Warren Buffet enrolled in Columbia to study from Benjamin Graham. In a nutshell, this book is a must-read for anyone who is thinking of a career in investment banking.
Investment Banking: Valuation, Leveraged Buyouts, and Mergers and Acquisitions
Author – Joshua Rosenbaum and Joshua Pearl
Goodreads – 4.3 stars
Amazon – 4.8 stars
This is probably the best book to learn the technical aspect of investment banking. It includes theory and online models that help you learn through practical application. This is a book for people who do not want to go into the depth and know-how of academic rationale; however, they want to have the necessary skills for an investment banking job. It is a recommended textbook by many CEOs of top-tier investment banks.
CFA Institute Curriculum Textbooks
Now not many people will give you this recommendation because the CFA Institute curriculum is thorough textbook reading. It is lengthy, detailed, and has in-depth case studies. However, if you want to be an expert in a particular subject, then these are your go-to books. As an investment banker or an aspiring investment banker, you can read CFA curriculum textbooks on the following subjects:
Quantitative Methods
Economics
Financial Reporting and Analysis
Corporate Finance
Portfolio Management
Equity
Fixed Income
Derivatives
Alternative Investments
Start with a level 1 textbook on each subject and work your way up.
Technical Analysis of the Financial Market
Author – John J. Murphy
Goodreads – 4.1 stars
Amazon – 4.6 stars
The author John J Murphy was the director of Merrill Lynch's technical analysis futures division, and he has managed to put his years of knowledge and wisdom into this book. This book covers in detail topics such as candlestick charting, inter-market relationships, stocks, stock rotation, etc. Moreover, this book also covers the latest developments in computer technology, technical tools, and indicators in its latest edition. If your goal is to work on the trading side of investment banking, this is the book for you.
If you are an aspiring investment banker, these books will give you an idea of what life will be as an investment banker, professionally and otherwise. Alternatively, if you are already an investment banker, some of these books will be a light read, while some will help you develop your topic knowledge.
Goldman Sachs issues a list of books to all its incoming investment bankers. So if you want to dig deeper, this can be your go-to list. We are giving the link to that list in the reference section.