Why Investment Banking?
It is common knowledge that investment banking is an elite career option. Investment bankers hold a position of prestige, and many people aspire to become investment bankers. This is due to multiple reasons; investment banking as a career option offers extraordinary pay structure, rapid growth, challenging work, and innumerable opportunities to learn. The jobs available in this sector are particularly low, and aspirants are high in number, so the process of making a career in investment banking can be a challenging task. A person has to be naturally good with numbers and analysis. He must also have excellent people skills and motivation to achieve excellence. That, coupled with the right qualifications, can get you an entry into investment banks.
To understand the career opportunities, first, let's understand the career chart of an investment banker.
Career Chart of an Investment Banker
A graduate with a bachelor's degree fresh out of the college or university starts as an analyst in core investment functions. From there, he advances to become an associate. The journey from an analyst to an associate typically takes 3-4 years. After that, associates are promoted to the vice president or senior associates. This typically takes 2-3 years. After this stage, the future career chart is subjective to each investment bank. The highest position a professional can attain within the investment bank is a partner and managing partner/managing director.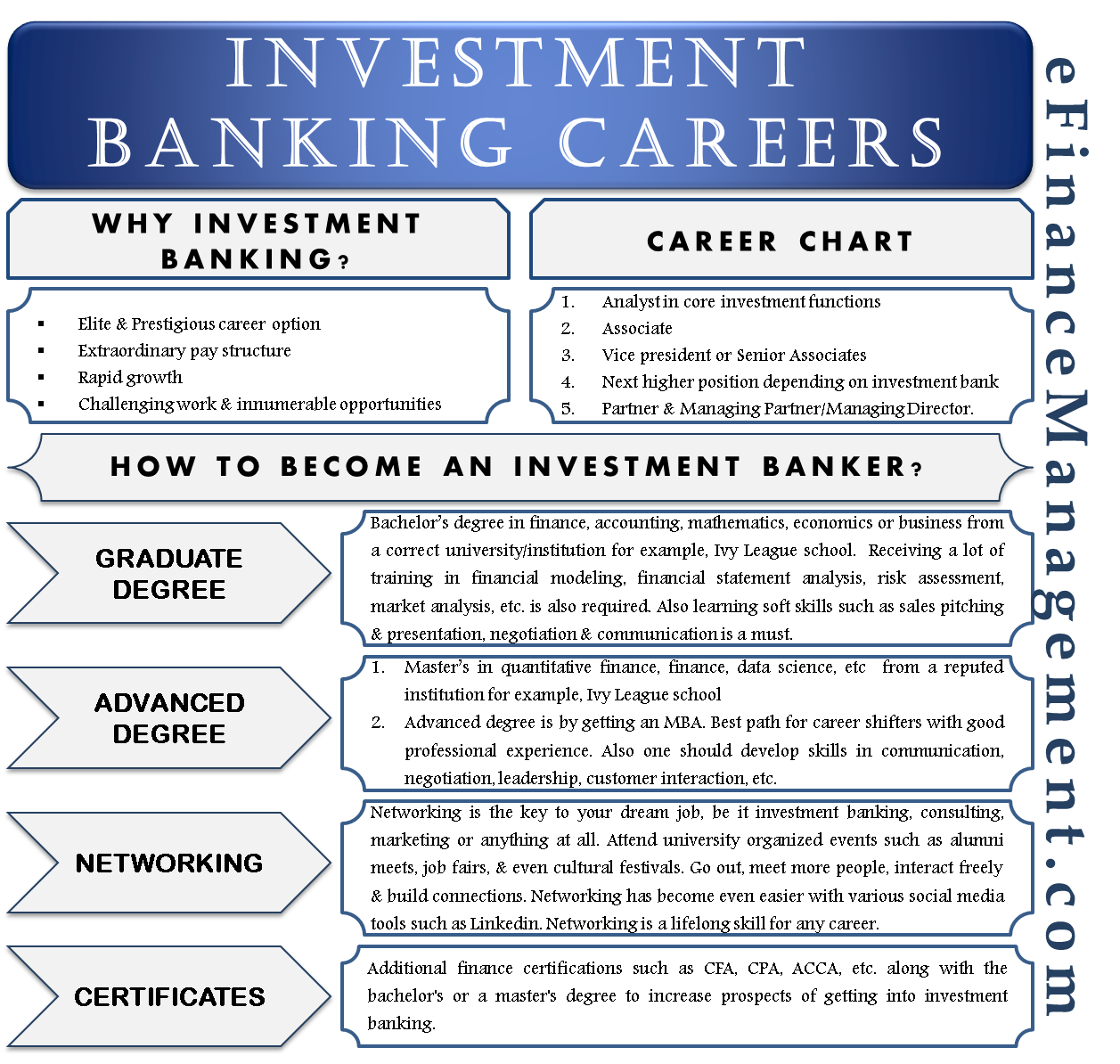 How to become an Investment Banker?
This is one of the most popular questions that aspirants ask – How to become an Investment Banker. Let's understand the different paths to get a kick start in investment banking:
Graduate Degree – Related and Top-Tier
Investment bankers come from a variety of backgrounds; however, a graduate degree is necessary to apply for an investment banking job. Aspiring students can decide to opt for a bachelor's degree in finance, accounting, mathematics, economics, or business. That doesn't mean students with other graduate degrees cannot apply; it just means hiring managers to prefer these degrees.
Another important criterion to thrust your chances of a career in investment is by choosing the correct university or institution for your graduate degree. In the USA, prestigious investment banks prefer students from Ivy League schools. In fact, in all the countries, investment banks prefer to hire graduates who passed out from the top twenty schools in their country.
Fresh graduates start out as an analyst in investment banks. These fresh graduates receive a whole lot of training from their employer before they start working. This training can be conducted over several weeks and covers subjects such as financial modeling, financial statement analysis, risk assessment, market analysis, etc. They also learn soft skills such as sales pitching & presentation, negotiation & communication.
Advanced Degree
There are two ways to obtain an advanced degree to start a career in investment banks.
First Option
Firstly you can obtain a master's degree in a specialized field such as quantitative finance, finance, data science, etc., to get a foothold in investment banking. Let's understand this by considering a situation.
Suppose Sam, a fresh graduate, has just passed out his Bachelor of Arts in Marketing from Arizona State University. He lands a job in the marketing department of a major investment bank. Six months after working in this job, he realizes that his interest lies in core investment banking. Now, even though investment bankers come from a variety of backgrounds, given their qualifications, it is difficult for them to break into core investment banking. In this situation, his best bet is to do a finance specialization masters from an Ivy League School. After he completes his specialized master's, he can apply to investment banks that will hire him as an analyst.
Second Option
The second method of getting into investment banking through an advanced degree is by getting an MBA. This path is best for career shifters with good professional experience. Let's continue with Sam's situation, as stated in the previous paragraph. After landing his marketing job, even though Sam realized his interests, he couldn't go back to school for a specialized master's due to financial constraints. He decides to keep working in marketing, he keeps working for three years and has two promotions. He keeps on developing his skills such as communication, negotiation, leadership, customer interaction, etc.
After three years, he still can't forgo his interests in core investment banking. So he decides to apply for an MBA degree from an Ivy League School. After passing out his MBA, he can apply to investment banks and would be hired as an associate. MBA graduates are always hired as associates, as they have prior skills and work experience that they can use in their current job with an investment bank.
Networking
Networking is the key to your dream job, be it investment banking, consulting, marketing, or anything at all. You need to know the right people to recommend you to hire managers and get you an interview. The networking starts even before you start looking for a job.
When you get into a university for your bachelor's program, you become a part of its alumni network. In fact, to get the maximum benefit out of your degree, you must network freely. Your fellow batch mates, seniors, and juniors are all a part of your network.
Attend university organized events such as alumni meetings, job fairs, and even cultural festivals.
Go out, meet more people, interact freely and build connections.
Networking has become even easier with various social media tools such as Linkedin. So when you are in the final year of your bachelor's program, you can use your network of friends and acquaintances to land you an interview with the hiring manager of an investment bank.
However, one must understand that networking shouldn't stop as soon as you land a job. Investment bankers actually sell services at a very high price. So as an investment banker, you are basically in the business of selling something intangible and charging exorbitantly. This can only be done if your customers believe in you, and you will have to tap into your network time and again to bring in good trusting customers. In a nutshell, networking is a lifelong skill for any career.
Certifications
One can get additional finance certifications such as CFA, CPA, ACCA, etc., along with a bachelor's or a master's degree to increase their prospects of getting into investment banking. An economics graduate with a CFA certification has a better chance of being hired by an investment bank than a single degree holder. These certifications independently cannot get you a job in investment banking. Still, they can be shining stars in your resume and shows that you have voluntarily made efforts to develop your skills for your career. It shows your focus and sincerity.