Corporate Finance
Corporate Finance is that part of finance that deals with how a company sources its funds, where it invests them, and how it determines its capital structure. The primary concern of corporate finance is to maximize value for its shareholders. Now, this maximization of value is done by various short-term and long-term plans. These plans are regarding evaluating potential investment prospects and opportunities, the arrangement of financial resources in line with the business plan/CAPEX plan, putting in place a proper capital structure, and finally, allocation of those available resources to optimize the returns, etc.
For example, when a firm seeks to raise funds, it has multiple choices. They can issue equity in the market, or they can take a debt. Apart from the obvious costs of capital, there are many other strategic considerations in choosing a source of capital. Similarly, in making investment decisions, the firm must find a balance between having idle cash and running out of it. Here, the key concern is generating returns that increase shareholder value.
Now, to understand the best practices in this field, here is a list of the best corporate finance books.
The Road Less Stupid: Advice from the Chairman of the Board
Author: Keith J. Cunningham
In this book, the author says that we sabotage our own business and success prospects because of the errors we keep making. And often, these errors are a product of our over-optimistic and emotional decisions, which lack proper thought and reasoning. The premise of this book is simple: avoid doing stupid things. How to know which one of your acts is stupid? The author Keith J. Cunningham answers with his professional experience spanning over 45 years. He has this experience in advising entrepreneurs and building businesses. This book will guide you to take down many of the challenges in growing your business. It will help you make better decisions and build properly thought-out strategies for business growth. In all, this book is an account of practical and plain-spoken business advice.
This book will help any business, regardless of the size or industry, to be more effective and profitable. Thousands of users say this is the best business book ever read, and there are many who vouch for having made more money after reading this.
The Wall Street MBA: Your Personal Crash Course in Corporate Finance
Author: Reuben Advani
Applying the theories schools teach in MBA to real-life examples, this book makes for an easy-to-read and interactive resource of learning. This book discusses the foundation of financial analysis, valuation, and corporate accounting and how they work in corporate America and Wall Street. Also, the author indeed does a great job of simplifying the concepts and making them straightforward. Hence, it is quite easy to absorb the information and connect it with real-world uses of the concepts. Highly useful for beginners into the world of finance or students starting a course on finance.
You will learn how to make sense of financial statements, how to detect if there is a possible fraud in the financial statements, how to value companies and many more basic and important concepts in finance.
The Finance Book: Understand the Numbers Even If You're Not a Finance Professional
Author: Stuart Warner
As the title itself says, this book is for non-finance professionals to make sense of the world of corporate finance. This book delivers on the promise of making you behave like a financial strategist. It teaches how finance professionals read financial statements and measure performance. So, this book will help you make all sorts of financial decisions pertaining to your organization. The authors fill each of the chapters with real-world examples to make understanding clearer. It highlights the key things which you should consider while making decisions.
Clearly, a book for beginners, but it will also help those who want to brush up on the concepts. At the least, this book will simplify the world of finance for you.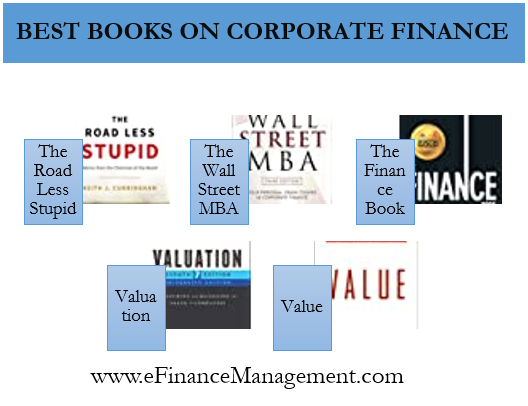 Valuation: Measuring and Managing the Value of Companies
Author: McKinsey & Company
This book by McKinsey & Company is a valuable resource for the measurement and management of company value for over 30 years. Now, in its seventh edition, it includes new insights on many contemporary topics concerning the businesses of today. Also, the authors help readers realize why costly endeavors such as preserving the natural environment, governance, etc., add value. It goes deep into issues and makes for an interesting read.
It presents the fundamental principles of value creation and measuring the value of high-growth companies. Also, this book presents the tools and strategies and nuances of valuation that every finance professional must be aware of.
The book has five parts. Part one discusses the foundations of value. Part two discusses the core valuation techniques, and part three the advanced valuation techniques. The fourth part of the book covers managing for value. The last part of the book discusses some special situations with regard to managing value.
Value: The Four Cornerstones of Corporate Finance
Author: McKinsey & Company
Coming from the experts at McKinsey & Company, this book is a masterpiece for those who seek to understand value creation and the true meaning of term value. The main purpose of this book itself, as the authors put it, is to understand how companies create and maintain value. So, this book not only presents the value creation aspect of businesses; it gets into the depth of it. Also, real-world examples of companies and their approach to creating value are discussed in the book. So, what drives return on capital? Which is more important; return on capital or growth? Why do some industries perform better than others? Why is it difficult to sustain growth? If you want to get answers to these and many other questions, this book will be a great choice.
Like other great management books, this book offers great insights into the topics it touches on. But, readability can be an issue with beginners or people without previous knowledge of the terms.