Today's article is slightly different than the usual ones. Movies and shows act as a catalyst in nurturing new interests and simultaneously help us in looking at the concepts from a practical point of view. There are many shows and movies that educate the audience about Business, Money, and Finance. After all, it is a fun way of learning something new and mainly slightly technical and complicated terms. The following are the recommended shows and movies that will help one learn and grow. You might as well utilize the OTT platforms for new and interesting concepts.
Top Shows on Finance
Shark tank
This is an American show that features and fuels start-ups and innovative ideas. Entrepreneurs pitch their ideas in front of venture capitalists, who have been successful in running numerous businesses. There are 13 seasons of the show, so binge-watching will not be a waste of time as it teaches the viewer many new things. The innovative presentation of pitches, scalability, jargon, and the perspective of both the entrepreneurs and sharks make it exciting. A show that takes one on a journey from the most basic, thoughtful products to the ones that are technologically mind-blowing. It is a treat for business lovers and throws open many innovative ideas and mostly how to pitch and justify one's project's economic and financial feasibility.
Billions
Another trending show that serves finance lovers is Billions. It is an American show with two main characters: Bobby Axelrod, a wealthy hedge fund manager who attempts abnormal returns through various tactics against US law. Attorney Chuck Rhoades is the other protagonist who wants to show a clear picture of the unfair practices. Witty dialogs, strong characters, and an exciting plot hook the viewers for a weekend binge. Witnessing practical applications of theory or replicating many workplace scenarios, Billions is also a show that teaches one many important life lessons. Key learning from Bobby Axelrod is to always stay prepared for the opportunities, as they come your way only once. Secondly, it is important to fuel your passion and create action. It is a must-watch if one likes watching Fiction dramas.
Thus, it tells one the legal aspects of the business and how one should not fall prey to those unfair trade practices in a bid to short circuit the process and business growth. It looks good as long as it is not on the radar and not caught.
Money, Explained
It is a 5 episode, a very limited series. And it is mainly for beginners who are still to train their guns on concepts revolving around finance. Vox Media is the producer of the series and explains the basic lessons of personal finance. To someone who goes clueless when people say they will start planning for retirement, this is the show for the future retiree. It exploits the darkness of student loans, gambles, and the unhealthy relationship with money people tend to share. An interesting take on money, Vox media produces fresh content that helps the viewer understand basic concepts. They have an amazing YouTube channel that educates one about various hidden facts about the world.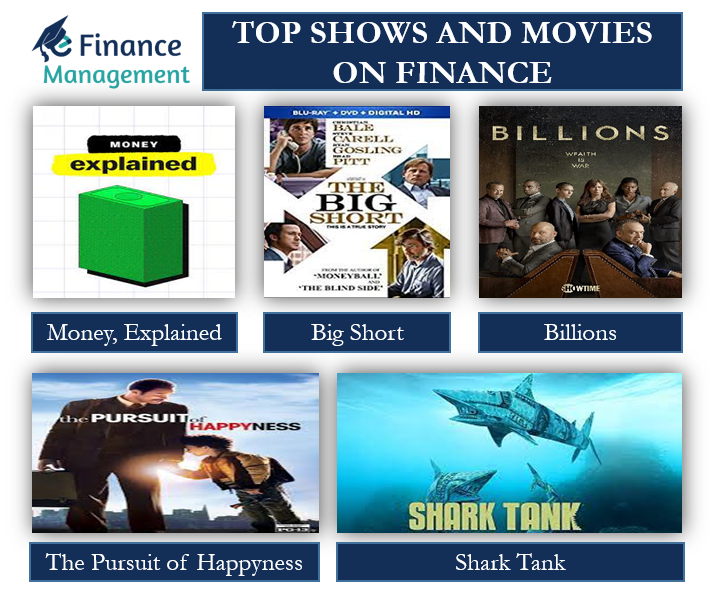 Top Movies on Finance
Big Short
The most talked-about is an Oscar-winning American drama film that portrays the harsh financial bubble The United States faced in 2008. The Big Short: Inside the Doomsday, a non-fiction book written by Michael Lewis, was then produced as a film, available on Netflix. Michael Lewis and a few other traders saw the financial crisis coming and were saved from the unfortunate losses other investors faced. Selena Gomez and Margot Robbie are also in the film, explaining synthetic CDOs and mortgage-backed bonds. It is a treat to watch all the celebrities using different ways to educate these complex concepts. Careful and informed investing is one of the key learnings in this movie. It is executed beautifully, flows to create an impact, and the cast is amazing. It is a fully packed movie that teaches you the right thing.
The Pursuit of Happyness
A true story of a salesman who invests all of his savings to sell healthcare equipment. It stars Will Smith, another reason to watch this beautiful film. More on the philosophical side, it teaches you the importance of money, emergency funds, rationale investing decisions, and the attitude to never give up. The film touches your heart and throws light on the go-getters, those who do not give up. The father-son bond shown in the movie also portrays the importance of family and values. In the end, the idea of starting over a career and managing finances brings the audience a sense of joy.
Along with these shows and series, there are also many Youtube channels that educate and cover the basics of important concepts of Finance. Ankur Warikoo, an Indian Content Creator, Author, and Entrepreneur, has over a million subscribers. He is well known for his finance, money management, and investment tricks. Another famous channel is- The financial diet, which helps you avoid the common mistakes young people do when managing their finances—a good guide for your personal finance habits.